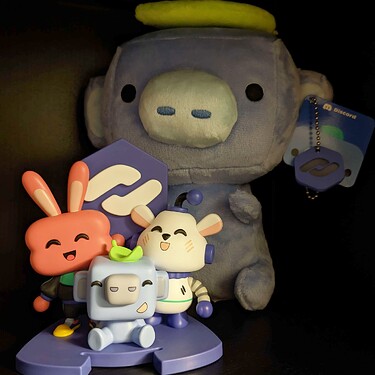 This week, we're continuing to work through our podcast backlog, setting up for this month's Live and Meetup events, and shifting focus inward to overall community health without depending on platform-specific criteria. For more details, read on.
As has been the case for the past month, we're continuing to work through our backlog of Live and Meetup episodes to catch up to our normal cadence. Under normal circumstances, we release Live and Meetup episodes publicly as podcasts about a week after they take place. The winter and early spring season saw these episodes become delayed as the result of temporary prioritization on work outside of the radio station. We expect the Creator Meetup to be released next week, and Live #127 (at TouhouFest) and #128 won't be far behind.
As a follow-up to last week's Discord communicators estimate, we had plenty of folks stop by and say hello, plus we've continued to welcome an influx of new server members over the past month. By all accounts, our server health continues to improve over time as we welcome new creators, new forum topics, new questions, and new fans. Thank you everyone for joining and being active.
With that said, Discord issued our 8th and final "No" for partnership status last week. That means that, effective Tuesday, June 13th, 2023, we expect to return to regular, non-partnered status with Discord. In some ways, this is surprising, but in others it is not.
For those curious, we expected to see the 8-week average at 51, but Discord gave us a 48, meaning we were 2 users short of meeting the threshold. As a legacy partner server (even beyond partnership), we will perpetually maintain a few perks including our vanity url, server splash screen, and high-quality audio for voice channels.
It's surprising because we recently made our first public appearance as featured guests at a Touhou-centric event. We invested a lot into the event and were able to meet with new and existing fans from not just the US, but from around the world. We saw our top two most popular social posts of all time happen in the weeks after the event, had an influx of listeners on our station, and shipped out more items from our store than any other month up to that point.
However, we also saw a continued decrease in activity on Discord immediately following the event (despite marketing it in person), had the reboot of our Variety Event series met with almost zero viewers over the course of two weeks (despite marketing it in person), and have not yet made back our investment into TouhouFest resulting in a net negative balance (despite featuring products at our booth in person and including free shipping).
We have some ideas on why activity specifically on our Discord community server did not see the same sort of influx as we did on our platform or our social media presence. At the end of the day, it's not about meeting an arbitrary threshold set by the platform; it's about keeping our community the positive, inviting place it's been, and setting a course for community growth that won't compromise what we already have. We've had multiple community members over the years comment about how the space we've created is one of the best Touhou communities they've found. We owe it to our regulars, our listeners, and everyone who helps keep things fun and welcoming for all, as well as our mod team for stepping in during the relatively rare occasion that things start to get a little weird.
Without healthy growth, communities—like flowers—will eventually wither and fade, and we're happy to have seen growth in our other spaces, but this one needs a bit more love. I hope we've made it pretty clear over the last couple months, but just to reiterate, we're always looking for ways to improve and change the structure of our community for the better and to help new members find their way on our server. We know the greater Touhou fan community can often be a bit chaotic, but we hope you'll find zen in this place, the music we play, and the community we've formed over the last 7+ years on Discord, and the last 12+ years overall.
That's all for this week. Let's all continue to make our community the best we can make it, and thanks for listening!
[Knowledge #120]