Greetings, listeners!
First of all, I'd like to congratulate the folks over at our Facebook fan group page who are currently celebrating 2 years! We especially want to congratulate the staff that have kept the page active and fun all this time. They're also about 100 likes away from hitting 5,000 likes, so if you haven't already… you know what to do~.
It's been a while since I've made an official post about where we're at in terms of numbers. In 2013, we had a habit of consistently breaking records from the previous month and growing overall. 2014 has been more sporadic in general, with sharp highs and lows. Let's take a look.
Convention Tour 2014
So far in 2014, we've had more involvement in the community than ever before. We started early in January at Desucon Frostbite, a convention in Finland, with one of our favorite volunteer groups. In March, we had our first multi-staff member meetup at Anime Boston in Massachusetts. We had the opportunity to connect with some people who do an incredible amount of work for the community, and we got to be a part of a live panel for the first time ever.

Next on the agenda was Animinneapolis, a convention which is notorious to us for having very few fans of Touhou. Not much is notable here except for the fact that we're considering a much larger promotional campaign at AniMinneapolis next year with the intent on bringing Touhou as we've seen it at other conventions to Minnesota.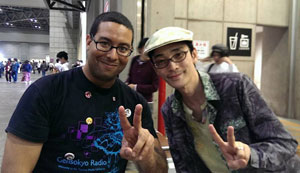 Later on in the same month was Reitaisai 11. While we've never been able to get anyone to do direct promotion for us in Japan, we were met with a surprise when a fan of the station, wearing one of our Digital Miko T-shirts, managed to snap a photo with ZUN himself. This was a notable occurrence since from here on, we knew that the creator of the Touhou series of games has at least had the chance to see our name.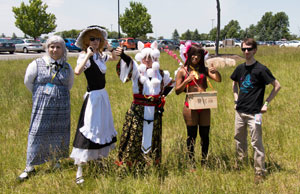 In June, I road-tripped over to Ohio for ColossalCon and met up with some members of the mid and Eastern US Touhou communities as well as some others. There were a couple of related panels going on here, and we had the opportunity to be a part of a music-oriented panel. On the day of, we decided to withdraw participation in one of them due to image and impression-related reasons. Basically, the panel was themed in a way which none of the staff members on the station-side wanted to be associated with. That aside, the convention was an overall success for us.
We revisited Anime Expo in July once again with it being the largest convention of its kind in North America. I was able to meet up with friends I've known for a few years, as well as Sean Chiplock a.k.a. Sonicmega, a fellow staff member. While there, I was also able to meet one of the organizers for TouhouCon, one the first Touhou-oriented conventions in the United States. Our respective promotional efforts met at the photo shoot event. The word continued to be spread in the gaming hall where Joeybeta, a fan of the station, had a Touhou gaming station set up.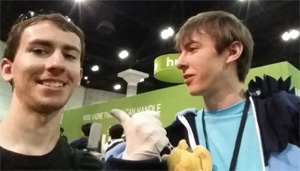 In August, I was given the opportunity to travel to Maryland for Otakon for yet another staff visit to a convention. I had to turn it down simply because it would've been my fifth convention this year, and four was already smashing my previous record of one con in a year.
Later on this month was Otakuthon in Montreal, Canada. Spark, our Facebook Community Manager, was able to travel with some folks from the New England Touhou community to visit a special sub-event called the Hakurei Shrine Festival. While we weren't able to get handouts to him in time for this event, he did what he could to promote and have fun at the same time. He was able to pass the handouts that arrived at his house to the New England community folks, and they'll be moving them over to AWA happening later this month.
Our most recent convention was SabotenCon which happened just this weekend in Phoenix, Arizona, and the promotional effort was spearheaded by Puzzle Plate, a fan of the station who's been a guest on the live shows a number of times. He was a panelist at this event, and as such, he had a great opportunity to put our name out there.
In addition to AWA, we also have two brand new convention appearances happening later this year: TouhouCon in Southern California, and Anime London in the United Kingdom. TouhouCon is a special case since it's the first time this convention will be running, and it's also a Touhou-centric convention meaning that this is one of the only events where our intended audience will make up the majority of attendees. Anime London will be our first appearance in the United Kingdom.
For the first time, possibly ever, I think it's safe to say that we have enough events that have happened and that are happening in the near future where we don't really need volunteers to help out… for the rest of this year. Of course, if you're interested in helping out at events for next year, we'd be happy to have you on board! Just drop us a line at our contact email.
State of the Station
With all of the promotion we're doing this year, something has to come from it, right? As you may know, there's two coinciding reasons why we do the sort of promotion that we do. One is to promote our station and the music that we play. The other is to promote the artists and groups that create the music that you hear on our station. Our goal is that this results in listeners seeking a copy of the music from their favorite artists for themselves, thereby supporting the artists that make the music. We already know this has happened with a number of people. DMJ654, our music reviewer, is an avid supporter of the people behind the music we play. In fact, at this past Comiket in Japan, he had a contact who was able to grab CDs from several different vendors on-site.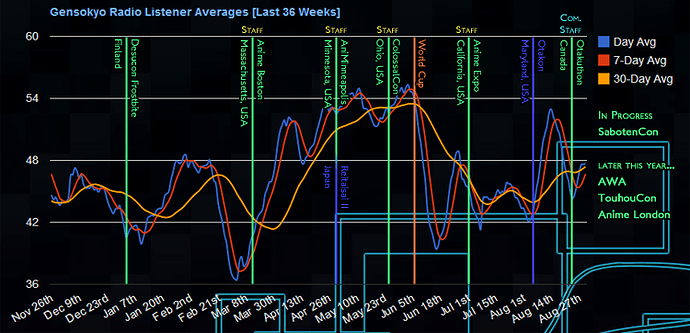 We continually track statistics from a few different sources to help us understand where people are listening from, what kinds of songs our listeners enjoy tuning in to, how frequently people tune in, and other listener trends. One of the most basic stats is our average listeners trend shown in the graph above.
Here, we can see that events often have an impact, with one of the largest impacts this year being from our promotion in Boston. Frankly, we've never seen anything quite like that. The New England community was something that we hadn't tapped into before that point, and the reaction we got from our efforts tells us that there's a lot of potential listeners still out there.
With GR6 coming out this Autumn (no exact release date yet), a number of fixes for issues that have manifested during GSR5's lifespan will be implemented. My current plan for implementation is to have the new design and framework complete, the advanced live info system in place, and all basic site functions such as login, news, and reviews up and running.
Perhaps one of the most anticipated features GR6 will bring is a fully responsive website design. This means that users will be able to browse on a computer, tablet, or smartphone, and content will automatically format to fit the device. Be on the lookout for a release date in the coming weeks.

So, what's coming after GR6? As we've hinted at several times in the past, there's a strong chance of us doing another T-shirt run early in 2015. We've had people ask if we're doing a third run of the Digital Miko design, and I'm afraid that design is no longer produced. With that said, 2015 will bring a completely new design. We hope to have it a bit more Touhou centered rather than it being a virtual billboard for the station. If you're interested in helping us design the next shirt at Gensokyo Radio, once again, feel free to contact us.
One of the most ambitious topics buzzing around the staff as of late is of setting up a physical presence at conventions. In layman's terms, we're considering putting together a booth. Having a booth would be a brand new way for us to promote not just the station, but the music and the artists as well. One unique thing we would want to do is to have an extended live broadcast on-location, incorporating fans into the broadcast by literally handing them microphones and chatting in person for the world to hear.
As for our stock, we would naturally want to sell shirts there, but we might also plan to sell physical CDs with a large emphasis on being a place for Western Touhou artists to get their work physically into the hands of fans. It's a complicated concept, and I can't really go too into detail about it. What I will say though is that, if we're able to make the logistics of the system work out, we could see the most massive growth of the station and our outreach in the community in the year 2015 and beyond.
If you've made it this far in the news article (and didn't just skip down towards the end), consider yourself a true fan. As a reward, if you tell us about your thoughts, comments, concerns, questions, etc. below, we'll add on some tokens to your future account (assuming you're logged in when you comment) for GR6. What are tokens, you ask? You're a fan, you'll find out soon enough.

Thanks for listening! ~