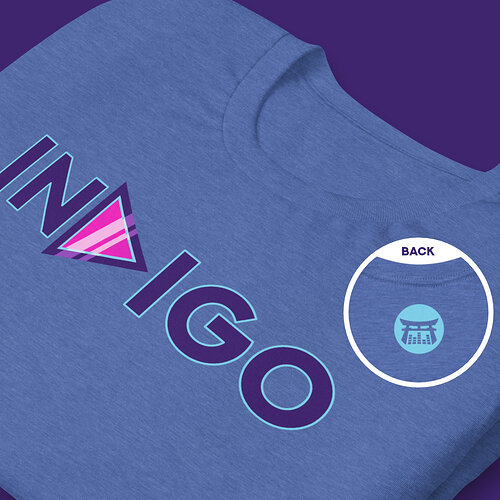 This week, we had a couple new additions to our store page, ran another music request event, and met behind the scenes to determine the future of our Discord server. For more details, read on!
First up, our Indigo brand T-shirt is now on sale! This is a fairly simple design, but most notably it is our first multicolor print which contains subtle gradients within the Indigo "play button" or triangle. These subtle colors are meant to reflect the facets that one might see in a gem and fits in with the fact that our highest quality audio stream can be found alongside an Indigo membership. Speaking of, each Indigo T-shirt comes with a one month trial membership which will grant you access to our lossless endpoint. Trial memberships don't come with badges or color roles, but getting a shirt is still another way to support us and give Indigo a try at the same time.
In other merch news, we have spent the past month going back and forth with our fulfillment partner around the idea of an Indigo snapback-style hat. The first sample we received was excellent, and we would put it up in our store if we could. The problem is, that first sample is officially a unicorn; we cannot get another hat exactly like it because the first one was technically made due to a production error (even though it turned out so well). We'll be putting that one on pause for now and looking for other ways to fulfill that item in the future.
We also added a second item to our store page which we've had available since August 2020: the "Gensokyo Radio Behind the Scenes, Vol. 1" disc! This is an item we have been selling through Bandcamp since its release, and now it's got a direct link on our store page. We fulfill this item using our own self-publishing equipment which we've used for other music circles like Komeiji Records and Higan Daybreak for events like Comic Market in Japan. It's available both physically and digitally. You can listen to what the early days of Gensokyo Radio were like when Sean "Sonicmega" Chiplock was part of our team, and when we were all a little newer to radio broadcasting.
In other news, we're rallying listeners and members on our Discord server in one final push to maintain our status as Discord partners. While this might sound a bit dramatic, it's also a good opportunity for our team to do some critical thinking and discuss ways in which we can transform our server for the better. We want to provide a framework for listeners and fans of the series to come together and talk about what makes this series unique. For us, we've always given strong emphasis on the music and the games, and we've got some ideas about how to enhance both of these topics and to make them easier for our members to jump in and discuss with others, even those who are normally a bit more shy.
Finally, in the spirit of fostering community, we're holding several events this week including a community game night, two town hall events (so that as many people as possible can join from different parts of the world), and yet another music request block timed for the evening crowd in the US. Please consider stopping by any or all of these events, and don't forget to say hi!
That's not quite all for this week, but we'll leave the rest for next. Stay tuned, and thanks for listening!
[Knowledge #84]