Greetings! Many of you have missed out on Live shows during the broadcasts this year, and ever since our studio moved and the Great Refresh happened, past Live shows have only been available via Mixcloud. More recent shows have also been available to LSM supporters via Patreon.
Well, it's time to get this bit of the station back to its former glory. Starting today, we're putting episodes back onto our self-hosted solution starting with Live #65, the episode after the most recent available via Mixcloud. We'll be continuing to upload shows leading up to the broadcast of Live #71 this weekend with Higan Daybreak.
Once we're caught up, we may opt to backfill episodes from Live #64 and earlier, as these were available on our self-hosted solution prior to the refresh.
We would like to remind folks of how our publishing schedule works. Shows are broadcast live where everyone can listen on GensokyoRadio.net, then they're made available to LSM supporters during the weekend, and then they're made available approximately one week after to everyone for listening at your own convenience via our publishing channels.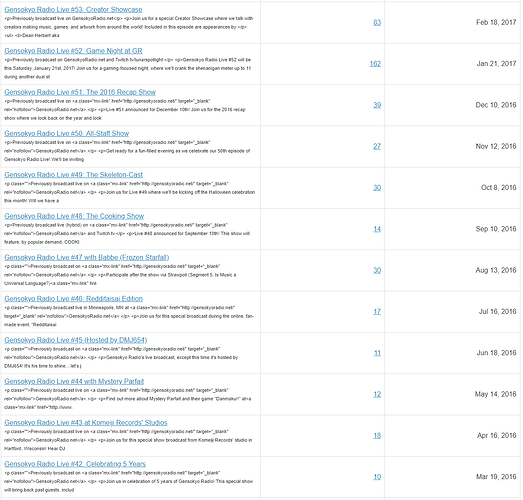 Recordings are a cool, but underutilized feature at GR.
Finally, let us know what you think about making the recordings available again. Early on, it was a highly requested feature, but in practice it has seen comparatively little use (see above), and we want to make sure our effort is going towards something that listeners will benefit from. Thanks!