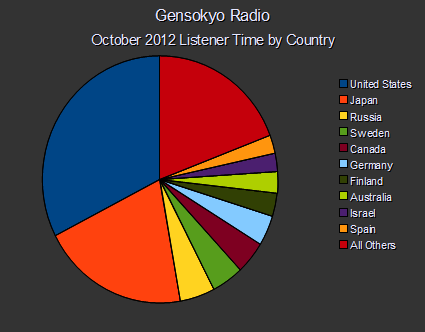 It's that time again where we let you, the listeners, know about how we did as a radio station last month. On the chart to the left, the US and Japan make up for over half of all time listened to the station. Below, we'll go through some stats points as usual, as well as go over a bit of what's in store for November, December, and early into the new year.
More than 80 million seconds (950 days) of music was streamed in October, smashing the previous record with 80 more days of music streamed.
The station uptime in October was 97.4%, up .6% from last month.
Since we paired up with the Gensokyo Radio Facebook group, we've received more than 100 "likes" in the past week (about a 25% increase).
In listen time, the most improved countries were Sweden, Australia, Canada, and Israel.
Countries that saw the largest drops in listen time were Germany, Ukraine, and Belgium.
During our last Gensokyo Radio Live broadcast, we asked people what they wanted to see added or changed on the site. We noted a few suggestions such as having access to past news articles that are no longer on the front page, rating songs that just finished in addition to rating the currently playing song, an auto-login feature which keeps listeners logged in for easier rating access and such, as well as some layout and aesthetic changes to tidy up the way that the site displays certain information. We plan on implementing these changes as well as some changes of our own.
November and December are the holiday months, and as such, I'll be busier with work and other things. Even so, we plan on rolling out a new setup on the site which will further expand the ability for users to interact with various features.
More and more people have suggested having the ability to have greater access to song information and related things. We do plan to have a much more in-depth system which users will be able to use to find music in the Touhou Music Universe that they're likely to be interested in. In fact, one of my latest side projects for Gensokyo Radio has been "song recommendations". This will once again be reliant, in part, on listeners giving song ratings. There'll probably also be some other factors included to help make recommendations more accurate and relevant. This is currently in the early planning stages, so it'll be a while before it hits the site.
Finally, Gensokyo Radio has been around in its renewed form for about 10 months (since I started working with Auritribe on it in December 2011). With that, the database has been growing larger and larger, with thousands of rows of data since we began logging information. Therefore, we'll be doing a bit of cleanup work and putting the database through a sort of renewal. This will result in faster load times for stats information as well as a cleaner system to work with behind the scenes which in turn makes it easier to implement new features.
With that, we'll be working on things over the coming months, and will keep everyone updated on our progress.
Thanks for listening~