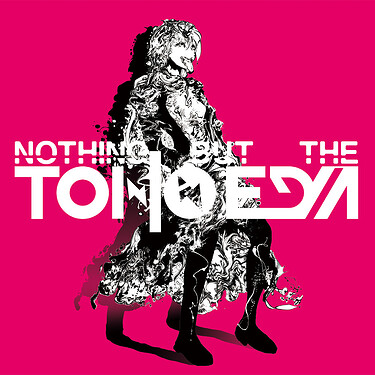 Couple weeks ago I was sitting around the basement of my parents house, talking to Lunar and Nano in a call when I stumbled on a album that came out at the end of March by IOSYS. I was quite surprised that flew passed my radar, seeing as I follow almost everyone in the Touhou world on Twitter, but none the less I looked it up and got excited to see it was a TOHO EDM album. I started listening to a couple songs, started to dig the music, then I noticed that every song was good. There was not one song that I wanted to skip, or something I heard before, it was fresh. I sent some links to a couple songs to Lunar and Nano, and they started to love it as well. I realized shortly after I started to listening that this album had more songs that caught my attention then any other album.
So to break it down "Nothing but the TOHO EDM" is IOSYS's second EDM album, and their first album after Comiket 85. This album, much like the past EDM album, is a departure from their traditional "Cute" style of music that made them so famous. This album is more club friendly and on this album, they really delved into one genre that is not represented in the Touhou Music Universe, but I will touch on that later.
First let me talk about track one, "美味ットゲッター." This song struck me as odd at first because I swear I heard this beat before but I could not put my finger on it. After a quick googling, it turned up that the beat was Nicki Minaj's "Turn Me On" after putting two and two together, this song ended up to be a mix of "Turn Me On" and "Emotional Skycraper" which somehow goes really good together. That is nice about this song is that they took all the parts that were in "Turn Me On" and made it their own. This song grows on you fast, well at least it did for me.
The next song that got me going on about this album is "サードアイや!" which is an awesome dubstep mix of "Satori Maiden ~ 3rd Eye." When you hear the track start, you are hit with the awesome vocals of Coco from Innocent Key. This song is cool in a sense that you think this song is going to go a Reggae route, then the colossal base drop kicks in and it is a sea of amazing wubs with some sick rapping going on. This song is all over the place and I love it!
Now, remember back when I was talking about a misrepresented genre of music? The genre I am talking about is Trap music. Think of it as a minimalist cousin to dubstep where the drop is not crazy wubs and sounds, but a nice hip hop beat. The beat normally has no consistency to it, and what it does have is very minimal at best. "I am Marisa (Visko & D.watt Remix)" does this so well I almost teared up. There are only two Touhou trap songs I found that I would safely say don't hit the mark, especially since I am a huge Flume, and What So Not fan. The steady beat leading to the build up to a gun cocking and firing into the drop really brought chills to my spine.
Last song I want to talk about is "star river (PARKGOLF Remix)" is a nice remix of an old IOSYS classic. Now, I know I am going to get heat for this, but I am a fan of vocals where there is downpitch vocals playing along side of the vocals. I love it, it is great contrast. I want to see this more in remixes like this. I really love how chill the song is. It makes me want to just lay back and think about everything.
This album really wowed me, and makes me await more albums like this. This album is my new golden album, which was head previously by Gorlliaz "Demon Days," where I have a hard time finding a bad song. This album have a lot of western influences to it, which kinda makes me giggle since we had a whole panel about it at Boston. If you love music in general, please, for the love all things, pick this album up. Heck, if I am at a con with you and I see you pick it up and put it down, I will pressure you to buy it.