Greetings, fans!

As you may have seen announced at our Steam group page or on Twitter, our next live show, dubbed "Live Number Five", will be our 5th Gensokyo Radio Live show. It's happening on January 18th, 2013 @ 7:00p EST / 4:00p PST and will include a mix of music which received high listener ratings as well as new music that we'll be bringing to the library with our next major update, "GSR5".
In stats, December saw a slight decline in broadcast time, falling 147 days short of November's record-setting 1,100 days of music streamed. As we said on November's stats report, we were actually expecting this to a certain degree. In reality, it's a combination of a fan from Finland listening on a different network (this is what happened before) as well as the holidays taking up more of everyone's time.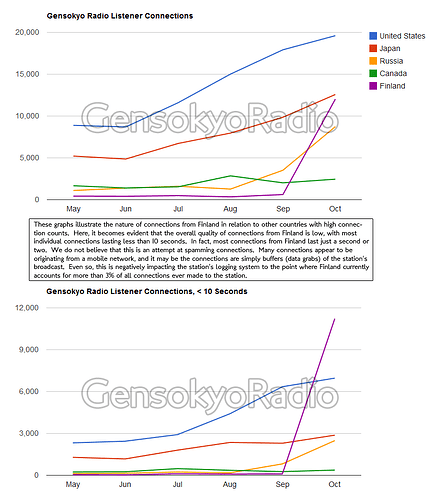 The US saw a large 134 day drop in listener time, but is somehow still in 1st place in the country rankings with a 97 day lead over Japan. Japan was the only country in the top 5 to see an increase in listener time. France jumped 9 places into 6th place, as well as more than doubling their listen time (11 days in November, 24 days in December). Italy also jumped 9 places into 21st place, and doubled their listen time from November. Australia and the UK are holding steady at 8th and 12th place respectively. Sweden saw the largest drop in listen time, dropping 20 places into 25th place, and going from 39 days to 5 days of listen time.
In 2012, we began recording statistics in mid-January. In the year 2012…
146 countries tuned in to Gensokyo Radio.
nearly 400 listeners created an account on GensokyoRadio.net.
9.23 TB of music was streamed (1TB = 1,024 GB).
around 620,000,000 seconds, or 19.6 years of music was streamed.
19.6 years streamed in our first year… man, I never would have guessed that a year ago, I would help make something that so many people spend their time on from all over the world. It's really cool to be a part of bringing you guys what Gensokyo Radio is today. Of course, with the development of GSR5, it'll only get better. We'll be talking about that and more this Friday at Gensokyo Radio Live #5. Our Steam chat room will once again be where we're at.
I hope 2013 is as great as 2012 was. You guys are the ones that make it possible. Thanks for listening!