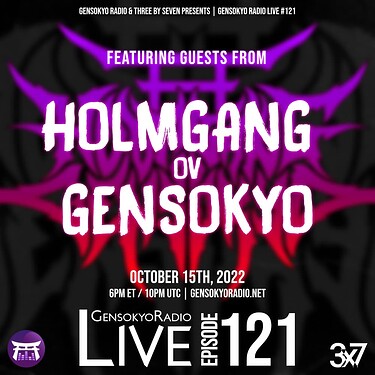 This week, we sat down with three members from Holmgang Ov Gensokyo during Live #121 and are nearly ready to launch our new storefront. For more details, read on!
Our 121st episode of Gensokyo Radio Live featured Yumi Sakata, UX, and ArmpitMaiden from the international metal collaboration circle "Holmgang Ov Gensokyo." We learned much about the group including their influences, processes, and what the tagline "Touhou Metal Forever" means to each member. DMJ did a great job leading the charge during this show, and we all had a lot of fun chatting both on and off the air. If you missed it, it'll become available as a podcast next weekend.
Finally, we mentioned last week that we're working on a new storefront. It is mostly ready, with just a couple finishing touches remaining before launch. We're using a new system that handles things like inventory tracking, sales, coupons, and multiple vendors. Some of the subsystems involved required us to do some math ahead of time to make sure things will work as expected, and this has added some time to development. Setup is a short-term project which will pull in more people over time and contribute towards some of the goals mentioned during our recent town halls. We look forward to launch!
We hope you'll check out both the Live podcast and the new store once they're both available, and thanks for listening!
[Knowledge #87]