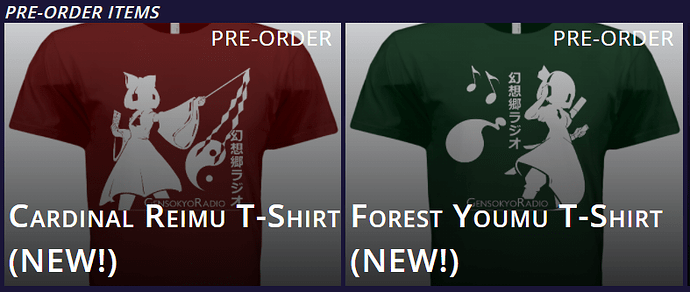 Pre-orders for two brand new shirt designs are now available on our website! We're pleased to introduce our new "Touhouette" series inspired by the classic silhouette commercials from a certain well-known technology company, as well as the well-known Bad Apple silhouette music video. The two shirts we're opening for pre-order today feature Reimu and Youmu. You can take a look and place your order on our website's store page.
This pre-order will be open until Sunday, December 6th, 2020. Please note that each shirt must receive a sufficient amount of orders in order to be fulfilled. Proceeds go towards paying for the costs associated with running Gensokyo Radio. We may or may not have extra shirts left over (in stock) after the pre-order ends, and certain sizes will only be available during the pre-order.
If this pre-order does well enough, we pledge to remove advertisements from the radio station and our mobile app for the entirety of 2021.
Thank you for your support!