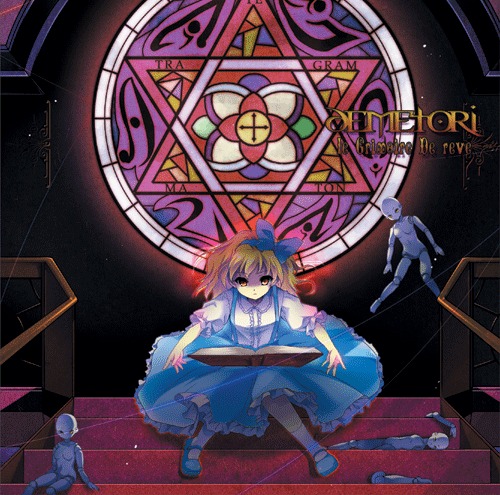 When I was new to the Touhou music universe, Demetori was one the first circles that I found and listened and since then they have been my favorite band without a single doubt. Discovering they were going to release a new album for Comiket 85 was like a nuke to my brain, I just couldn't handle it. And let me tell you, Demetori didn't disappointed at all; as one of my favorite quotes says: "Demetori is incapable of failure. Failure attempts to happen, but he slaps it with his guitar until it gives up and sounds awesome".
Let me begin talking a little about the structure of the album itself. This is an aspect I always loved about Demetori's albums; they organize their songs inside the album in such a way that one arrange complements the other one epically all the way to the end. Le Grimoire De Reve's introductory track does just that, it creates the perfect mood for the listener in order to enjoy each song at its fullest.
I have to personally admit that Kyuuhouji Takara, Demetori's drummer, did an awesome job; being a drummer myself I could sense how he focused more on the bass drums for this album showing us how metal is done. I really can't choose one song over the others to highlight drums as a key element because in every single one they are just crazy… But I think Sic World just beats the competition because of how the bass drums plays with the rhythm guitar and the breath-taking fills, exactly why He's my favorite drummer.
Tokunan Minami, Demetori's everything else (Guitarist, Bassist and Pianist… I still can't get my head around that…), play was also astonishing! I personally prefer Rhythm Guitars over Leads, that's the case in this album; however The Grimoire of Alice and Lost Dream's Leads are totally amazing, they were stuck in my head for days. Meanwhile he used his Rhythm Guitar to create each song's backbone, filling it with epicness and making me headbang like there's no tomorrow. His best Rhythm play, in my opinion, was in Dream War because it takes a bigger role that just being the rhythm pulse; it surpasses that function making it one of the best tracks in the album.
On a little side note I was bummed out when I found out after listening the whole album that they reused two songs from their previous album, Tendre est la Mort. Those songs are Death Echo, previously called Old Yuanxian, and Prie a Dieu, previously called Heartfelt Fancy. But I soon realized that they actually fit pretty well with the other ones so I don't mind it that much anymore.
To wrap everything up I'll say I would encourage anyone who likes metal to buy this album, whenever he/she knows what Touhou is or not. I can almost guarantee that they will be as amazed as I was when they try it out and they might get hooked in the process.