This is just a reminder that today is the last day to order a Digital Miko T-Shirt. These shirts will likely be the last to be printed with this design, possibly ever, so get your order in while you can at 25% off the regular rate!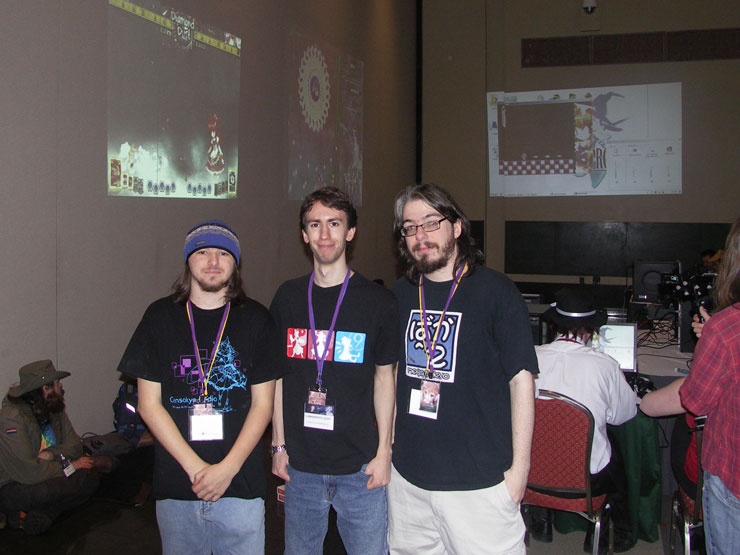 Gensokyo Radio Staff @ Anime Boston 2014 (left to right): DMJ654, LunarSpotlight, ☆Spark
We've already had some people ask if we'll come up with a new shirt design in the future. That mainly depends on how things are at the end of this year. If we're still going strong when 2015 hits, we'll consider it! Hey, we know that Miko might not be everyone's favorite character (but we know it's on at least a few peoples' list of favorite characters out there, like that guy in the black hat :3), so we'll see how things go.
Server costs are under control for at least the next year as it is, so what would more shirts do for us? Running another sale in the future could potentially enable us to take on even more ambitious ideas such as opening and running our own convention booth, something we've never done before (even though a lot of people think we have). Running a booth carries with it a relatively large initial investment for any group that doesn't normally sell things (like us), so that may or may not be something we consider for 2015. A booth would carry with it a unique opportunity to promote to an audience we haven't yet met with: everyone outside the scope of Touhou. There's also the added interactivity and such that comes with being there in person.
This idea is just that: an idea. However, if you have anything you'd like to add to what a booth could be for us, leave it in the comments below! I've always been curious to know what people have thought we've done since… well, people have thought we've already done this, but we haven't. Live broadcasting on-location, impromptu interviews, whatever ideas you might have, let us know below.
As always, thanks for supporting our station, and thanks for listening! ~