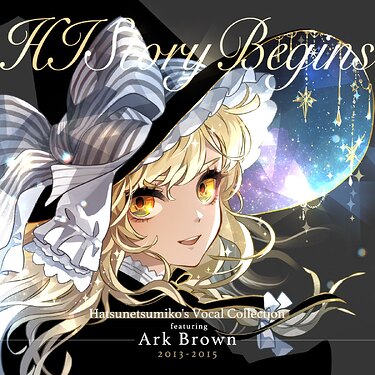 In the early 2000's, the world was swept up in boy band fever. Groups like NSYNC and Backstreet Boys dominated the charts with hit after hit. During this time, young DMJ was in a divided household, with my little brother deep into Backstreet Boys while I was into NSYNC. We constantly fought over which group was better, who was a better soloist, Justin Timberlake or Nick Carter (and we all know how that ended). During this time in pop music, boy bands were what drove the R&B sound for years to come.
In walks a circle called Hatsunetsumiko's, comprised of legendary talents like Maurits "Zen" Cornelis and Tim Vegas on arrangements, and vocal talents like mille, Vivienne, Chen-U, and the one-man boy band Ark Brown amongst other notable artists. I have sung Brown's praises in various broadcasts over the years. His voice is unequivocally versatile in the Touhou Music domain. He firmly cemented himself in the world of unrivaled R&B vocals that go unrivaled, with hits like "It's You," "Rock My World," and "Starlight Dance Floor." These tracks invoke that early 2000's sound that was so popular when I was a child.
That is why I was excited to see that Hatsunetsumiko's was putting out a collection of Ark Brown tracks called HIStory Begins, going back to his tracks from 2013-2015 and giving them a "re-treatment." Now, I was perplexed with this term, but I assumed going into this album that this meant they were going to remaster them in some capacity. That's why I am going to tackle this review a bit differently than previous albums. This review will be more of "should you buy" since these songs were plucked from different albums, and I highly encourage you, the reader, to go out and listen to those full albums since they feature the wide array of talent this circle has to provide.
HIStory Begins consists of tracks from albums released between 2013-2015, featuring Ark Brown on vocals. The tracklist is as follows:
"Inner Flight" (Lunar Concerto, Reitaisai 10)
"The Glitter" (Lunar Concerto, Reitaisai 10)
"It's You" (BOUQUET -Grand Finale-, Comiket 84)
"Sunflower" (BOUQUET -Grand Finale-, Comiket 84)
"ENTICEMENT" (Alkaloid, Comiket 85)
"A Prayer" (DANCE with WOLVES, Comiket 86)
"Starlight Dance Floor" (Origin of Love, Comiket 87)
"Rock My World" (Treasure, Reitaisai 12)
"Girls in the Mirror" (Girls in the Mirror, Comiket 88)
"Metropolis" (Girls in the Mirror, Comiket 88)
"Everything but the Girl" (FELICIDADE, Comiket 88)
"Purple Pain" (Bonus Track off of Starlight Dance Floor, Reitaisai 13)
These tracks represent not only Ark Brown's range as a vocalist but also his flexibility to move between different styles. From the funk-inspired "Girls in the Mirror" with Chen-U, to the R&B slow jam that is "It's You," to the rock-charged "ENTICEMENT," Ark Brown shows total command over his own voice and his ability to slot it into any role it needs to fill. However, this isn't a review of the music; this is more of a buyer's guide, so that I will save the praise for another time.
The focus of this write-up is to inform you on how this collection contributes to the overall discography of Ark Brown and Hatsunetsumiko's as a whole, so my approach will compare tracks off their original albums and HIStory Begins to see if there are any changes to the mix or recording. I have a personal dislike of "greatest hits" albums because I don't see them adding much to the overall discography of the artist. They mostly serve as an entry point for new fans, which is fine, but as someone who was already a fan, it is a pass for me. Remasters, on the other hand, are a whole different story. Cleaning up a mix and rerecording some instrumentation or vocal lines are very much needed, especially as technology advances and the capabilities of both the artists and listeners improve against what the artist initially had back when the track was recorded. HIStory Begins, being both a collection and a "re-treatment," has me wondering whether this album is worth picking up for Hatsunetsumiko's fans, Ark Brown fans, and new fans.
Now, I have to say this up top before diving into the album itself: first, I am not a professional musician and have minimal vocal training. The most training I got was in choir from 1st-5th grade and middle school choir. Second, I am not an audio engineer by any means. I have zero clue how to mix a track, let alone record my own voice properly. Lastly, this is all based on the subjective ear. What I want to present to you is what I was able to pick up on as a listener.
Another thing I need to touch on is the medium in which I listened to the tracks. For HIStory Begins, I listened to the album on Spotify using their "very high" audio quality with no changes to the EQ. As for the original tracks, I listened to them via FLAC from my own collection. The tracks I do not personally own were "Inner Flight," "The Glitter," "ENTICEMENT," and "Purple Pain." Those tracks were listened to via Youtube using the best available video quality I could get for each song. The reason I went HIFI (FLAC) for the audio of the original tracks was not only because that was basically all I had on hand, but also because I wanted to try to give the original tracks the best quality I could, and to hear any instrumentals lost or hidden by compression or the mix as we will see later in this article.
I noticed that overall, across all the tracks on this album, there seems to be some form of adjustment in the mix. To my ear, it seems like the bass was brought down more in line with the rest of the mix. There also seems to be some work done on the harmonies. When every harmony comes in, it feels like they are crisper and clearer than the original. This could be because Spotify might have added normalization; however, when I turned it off, it seemed like it felt the same.
There are moments when there are added instrumentals. "It's You," for example, adds a sparkly synth in some sections. This is very pronounced in the intro right before the vocals come in. There also seem to be re-recordings of some instruments to make them pop in the mix in this track. There is a horn added to the beginning of the chorus which had always existed on the track; however when listening to the FLAC version of the original track, this "inflection" was buried in the mix.
"A Prayer" is another song that got this treatment but on the opposite side of the coin. They took away this distorted baseline in the intro (if you put both the original mix and the re-treatment side by side, you will know what I am talking about), making the intro feel more bland and flat for my taste.
With this said, there seems to be a concerted effort to bring Brown's voice front and center, especially in the harmonies. A great example of this is in the "re-treatment" of "Starlight Dance Floor," the most listened track on the album according to Spotify's play count at 28,000+ listens on the platform. In that track, during the harmonies, you can hear Ark's highs better in the mix, making this already lively chorus sound like you are on the dancefloor as he is performing.
This is only scratching the surface of this album. After listening to both the originals and the new "re-treatments" over 50 times throughout this review, I find just little changes here and there that make each song feel slightly different. The question I ask is: was a re-treatment/remaster worth what we got and worth its own album? My answer is "absolutely" to the former, and it gets a bit more complicated for the latter.
This album is a great jumping point for new fans of Ark Brown, Hatsunetsumiko's, and Touhou Music; however, for those existing fans out there, I feel like this album might be a slight pass. Even though I think these are amazing remasters, the number of modifications doesn't change the song enough to warrant a rebuy. Yes, adding remasters on a collection/greatest hits album is welcome and is a good way to release these kinds of albums, but it doesn't supersede the fact that this is a collector's piece, and I am all for that since I am a collector. If you are just a fan of the music and own most of the catalog, I recommend at least listening to the original releases, which still go just as hard as the new remasters. I also recommend picking up the full albums these tracks were featured in; the best place to start looking is in the "Music" tab of the Gensokyo Radio website.