Greetings, everyone!
If you haven't been following us through our regular social channels, GR turned 5 years old this week, and we've got a few things lined up to celebrate! We mentioned during the last Live show that this weekend will include Live #42, celebrating 5 years with a 5-hour live broadcast. Thanks to my incredible skills of negotiation, DMJ's original plan of doing a 24-hour stream was brought down to a more reasonable length… either way, you have him to thank for this.
We have a few guests who may show up at some point during the broadcast, with Sonicmega also mentioning he will try to make this one as well. Stick around to see who stops by, and chat with your fellow listeners in our Discord chat.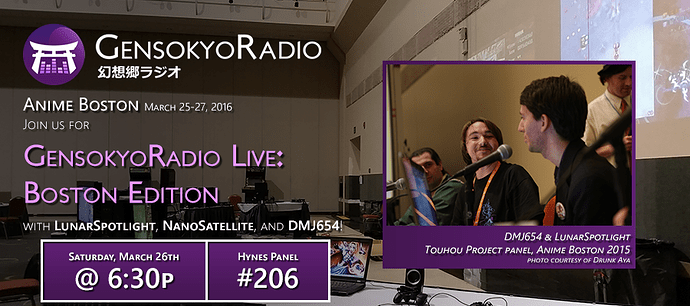 In other exciting news, our panel at Anime Boston 2016 has been scheduled! If you're attending, we'd love to have you join us on Saturday evening at 6:30pm in Hynes Panel Room #206 for "Gensokyo Radio Live: Boston Edition". This will be our first stand-alone panel at Anime Boston (we've made a couple appearances at the Touhou Project panel in the past couple years), and our second stand-alone panel overall. (Keep in mind the time and location is subject to change, consult on-location resources for updates.)
You can also find us in the arcade room where we'll be helping out with the Touhou arcade setup once again, as well as providing some background music to the rest of the ballroom.
Finally, while the three of us are all in Boston (together for the first time), we'll be working on a special project which we hope will, someday, enable the staff to give more dedicated time to the development of websites and media solutions like GR. Stay tuned for more on that.
We hope to meet and chat with some fans these next couple weekends, both online and in-person, and thanks for listening!