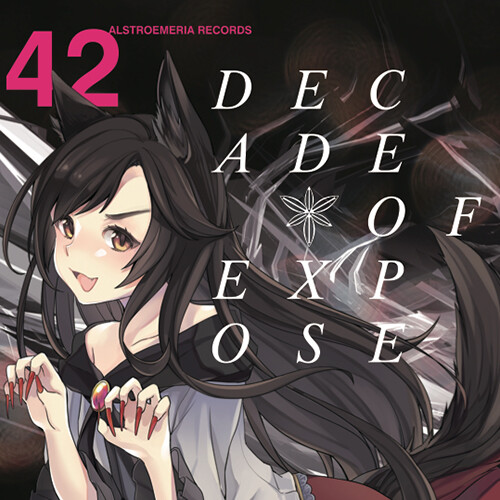 Well, Comiket has come and gone, and boy, musically, it was awesome. I picked up a few albums and have been chilling to them between watching AGDQ 2014, Going back to class, adjusting back to apartment life, and of course hanging out with Lil_Flan. So far I have been happy with all of the ones I picked up. I want to start off with one in particular and this one really got me going and so far one I am going to enjoying for a while.
When I first picked up "DECADE OF EXPOSE," I was really excited since I have enjoyed every single Alstoemeria Album that came out. This one in fact has become my favorite in their entire collection. Of course you see both Masayoshi Minoshima and mei ayakura returning to make a total of six great tracks for the album, but there are two songs I would really want to focus on that are not either of them that really made me want to listen to this album.
The first track is "CHECK THIS OUT" by Nhato, which to me is one the most unique track on the album. No vocals other then the words "Check this out" at the drop and "Here we go again" during the bridge. What really makes this track awesome is that it makes me think of a Tron Like world with Neon, and light bikes, and stuff like that. I also (for some reason) think of Daft Punk when I listen to it. It is a great dance track, and has a great "Club-like" feel to it. I personally cannot help but go nuts when the drop happens.
The other track is "KALEIDOSCOPE" by ayame. This song is so beautiful. The Piano is so soothing and warm, it complements the chill vocals well. The kicker here is the beat. It helps make that warmth of the song really jump out at you. It just makes you really want to jam with it. It is such a nice song.
Overall this entire album is great, and really keeps up with the Alstroemeria tradition of great albums. Defiantly one of the albums you have to pick up from this years Comiket, it is a great addition to your collection of Alstroemeria albums. It is going right now for about $10 USD minus shipping. Really encourage people to get this album!