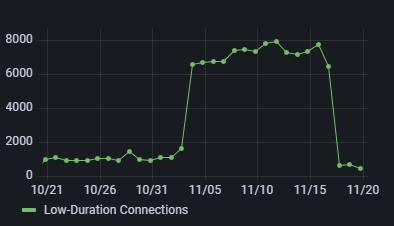 This week, we pushed a technical update to the station and placed a bunch of stuff on sale through the end of the month. For more information, read on!
Starting about two weeks ago, we noticed a new listener trend which resulted in over 40,000 additional low-duration connections occurring every week. This prompted an internal investigation, and from this we were able to see where the connections were coming from and what the intended use case likely was. Furthermore, we noticed a post on Twitter a while back in which an individual openly shared their method for connecting to our service in an automated way. In both of these cases, we found users were engaging in behaviors which run against our station's terms of use.
To mitigate behaviors like those above, we re-implemented an auto ban system which had been present prior to our tech upgrade in 2021 and updated the ruleset for it. This system is designed to catch egregious connection and listen behavior. The vast majority of our listeners should never hit the conditions for tripping an automatic ban. For anyone who does find themselves unable to listen, please get in contact with a GR staff member and we can talk about it.
At present, an auto banned user will find themselves getting either an authentication window (like when connecting to Indigo) or a "401 authentication" error but for all stream endpoints. We may be able to update this so that it throws a "403 forbidden" error instead to make it more clear to the user what the cause might be.
Finally, we're rolling out the carpet for the upcoming sale season over on our store website! Most music is 20% off and the GR Classic Hoodie is $10 off, both from now until December 1st, 2022. We also have an active coupon code you can plug in (RADIO10) to get 10% off all non-sale items until the same date. You can find our wares over on our new storefront at https://gensokyo.store.
We've got a fireside chat during Meetup #18 happening less than two hours from this post, so go join us over there (or listen to the podcast afterwards), and thanks for listening!
[Knowledge #92]