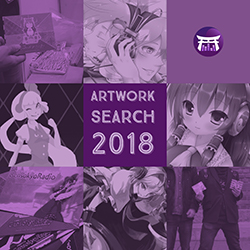 Our 7th annual artwork search has begun!
We're looking for cool artwork to showcase and help promote our station to folks at conventions and events around the world in 2018. Artwork is showcased on a minimum of 500 postcard-sized handouts and accompanies information about our station. Since 2012, this has been a cool and different way for fans to take a part of our station with them, and to promote an artist's awesome artwork along the way.
If you're interested in participating, here's what we're looking for:
Digital artwork featuring at least one character from the Touhou Project series
Themed in a Japanese setting; including a musical element is optional
Artwork submitted in a 2135 x 1535 pixel format (leaving any important visual elements at least 20 pixels away from the edges).
Submitted in a .PNG or .PSD (CMYK) format.
Information we can use to credit you should your artwork be chosen (username, pixiv, email, twitter, etc.; it's up to you).
Please submit your artwork by March 1st, 2018 to our contact email. Our team will go over the submitted entries afterwards to select the artwork we'll use.