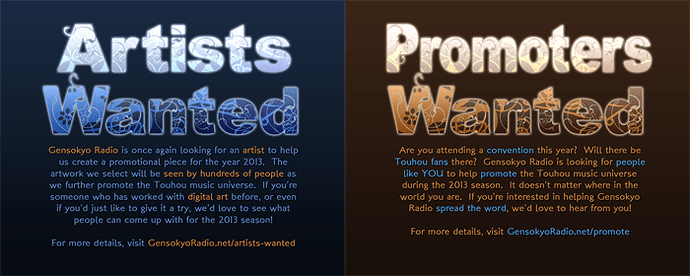 Greetings, Touhou music fans!
I announced this almost a week ago at our Facebook fan group page, but we're getting ready for our promotional campaign of 2013, and to do it, we're going to need your help!
Gensokyo Radio is looking for Artists and Promoters to help out with our 2013 promotional campaign. Last year, we promoted the Touhou music universe in places like Anime Expo 2012 in Los Angeles, CA, AFAi in Jakarta, Indonesia, and Otakuthon in Montreal, Canada, and we're looking to do it again this year.
We're looking for one or two people who can do high quality digital art to create the face of our promotional material. It'll be printed on postcard-sized handouts which will be seen by hundreds of people at various events and conventions this year.
We're also looking for volunteers to help us do the actual promoting. If you're going to an event or convention, especially if it's with a small group of people, we might be able to use your help!
For more details on creating art for Gensokyo Radio, visit http://gensokyoradio.net/artists-wanted/.
For more details on helping us promote Gensokyo Radio, visit http://gensokyoradio.net/promote/.
You may have also noticed that we've changed our background image this month to a trace of the work we used last year for our promotional campaign, traced by me, originally done by Syrah.
If you have any questions about this, feel free to contact us (we've put some additional information there since GSR5 launched).
Thanks for listening!