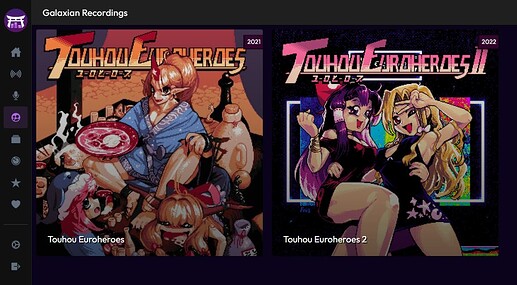 This week, we broadcast our 131st episode of Gensokyo Radio Live, plus we made the PWA version of our mobile app available for testing. For more details, read on!
Gensokyo Radio Live #131 brought Lunar and DMJ654 back for another round of game news and great music, plus we announced the addition of Galaxian Recordings' works to the station. The latest official Touhou game (19) is already available on Steam, plus we brought a couple more songs along for another round of "what other thing does this song remind you of," a segment where Lunar plays a couple specific songs that feature some aspect similar to music outside of Touhou.
The bigger news this week is of course the closed beta release of app v2. Those who have been following along will be aware that we've spent the last 2-3 months learning our way through a new framework and have put together a PWA-compatible version of our mobile app.
At this time, there are two groups of eligible testers: Enthusiast supporters through LunarSpotlight Media's Patreon campaign, and Indigo members who have subscribed to Gensokyo Radio's membership program. In addition to testing access, Indigo membership also gives listeners access to the station's lossless-quality audio stream (similar to a "Hi-Fi" quality option offered by other streaming services). You can help support our small team starting at a paltry $4.99/mo., similar to what a Twitch sub would be, and far less than what other audio streaming services ask for their Hi-Fi options. You can learn more at Indigo by Gensokyo Radio | Gensokyo Radio.
During the testing phase, we'll continue to develop and update the app as well as begin building the framework for our volunteer translators to begin their work at a later date. We may elect to push this to open beta once we feel it's ready for wider reception.
Thanks to everyone who listened to our Live this weekend, to those helping us test the new app, and to those who continue to support the station and ongoing development! Stay tuned for more updates next week, and thanks for listening!
[Knowledge #130]