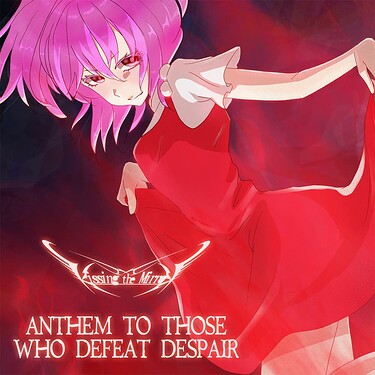 First off let me start off by saying that this song is FREE! It costs $0 or your regional equivalent. It is the best track I have heard by Kissing the Mirror that I have heard in a long time. What makes this so exciting to me is that it is part of a larger album that is going to be released at Comiket. This song really gives me hopes for this years Comiket musically. I am so pumped for this year it is crazy with everything that happened this year for me, going to AWA, becoming a part of Gensokyo Radio, and getting to meet some of you in person, C85 is just going to the that icing on the cake.
That being said, let me go on to this single. The single is called "Anthen to Those Who Defeat Despair." and boy is this song heavy as hell. Compared to other tracks by Kissing the Mirror, it is just what you expect from them. Heavy, in your face metal, with Yuta "ytmn" Okabe of Virginhate on Vocals. The song is just that Apocalyptic Death Metal you wanted from Kissing the Mirror. What really make that song stand out is that it is a mix of "Dream Express" from Mystic Square and they play it off so well by masking it behind those lyrics you can only really hear it on the chorus. Another thing I have to commend Kisisng the Mirror for is that almost every song they mix truly felt like a metal song, not a Touhou Metal cover with lyrics. It feels like as if they put more attention on the aspects that makes the song fit within the metal genre then they say "Let's now put that Touhou Spin on it."
I would like to give a shout out to Wooming for CRUSHING all the instruments in this song. Every instrument you hear in this song is played by him. I feel like his attention to every instrument he gets his hands on really makes Kissing the Mirror stand apart from all the other Touhou metal circles, and with talent like Undead Corporation, Foreground Eclipse, and Thousand Leaves in the mix that is a very good sign you are doing something right.
This song is a must download, and how could you pass it up it is a free glimpse into this years Comiket!
If you want to download the single, go to the webpage and while you are at it, watch the lyric video, it is AWESOME.