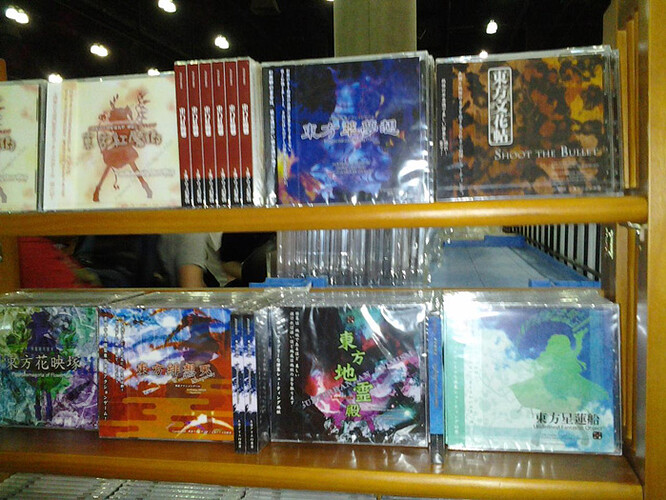 Anime Expo 2013 in Los Angeles, California has been in full swing this weekend, and Gensokyo Radio has held a quiet presence thanks to Sonicmega (Sean Chiplock), one of our staff members, as well as Joeybeta, one of our regular listeners. The photo above is one that Sonicmega took at a booth in the AX merchant's alley. I don't think I've ever seen so many Touhou games in one place!
Something interesting happened a couple days ago. Since AX was this weekend, one of the artists that created artwork for this year's design preemptively made a post on Reddit, and the post previews their artwork as well. The response was, as seems to be habit with us, overwhelmingly positive. What's interesting though is that people sort of took this preview as though we had designed a large poster, not a postcard-sized handout. As a result, I talked a bit with the other staff members, and it's actually possible that we might convert the designs into posters which we would make available in some manner, to be determined.

Last but not least, our 10th live show is just around the corner! Since Gensokyo Radio's reboot in December 2011, we've had 1.1 million connections to the station, with about 190,000 of those from unique listeners. I could also spout off a bunch of other numbers, but the point is, any station is nothing without its listeners, and we're going to make this a rather special show by playing what our listeners want. Sure, playing songs that've received the highest ratings in the span of the previous month is one way of doing it, but it's another thing to play songs that are requested during the live show. We've done that, too, but we've never played 100% requests during a live show before, and so for Live #10, we'll be playing what you… desire.
Going even further than that, we'll be starting an hour earlier than our previous shows, and going for three straight hours. Hopefully my co-hosts don't hate me for this :3 . Don't miss it!
Thanks for listening! ~