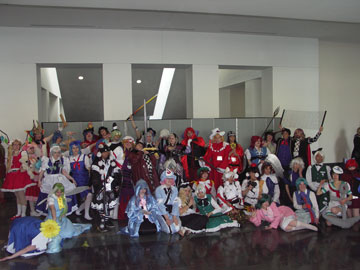 Wow, what a weekend.
Anime Boston 2014 was a resounding success for all of us at Gensokyo Radio, as well as for the folks at ShrineMaiden.org that we got to meet and chat with over the weekend. My expectations were blown away as we met with numerous fans, spotted quite a few Digital Miko shirts, and journeyed across the historic city of Boston with all of them on an epic quest for a sandwich.
I met with DMJ654 and Spark for the first time at the convention on Friday afternoon, accompanied by DMJ's roommates and friends who were also going to be rooming with us for the weekend. My staff-mates had missed the photo shoot at noon that day, but I was able to inform them about a journey which would take place that evening for good food; a journey that would take us underground and across the city of Boston.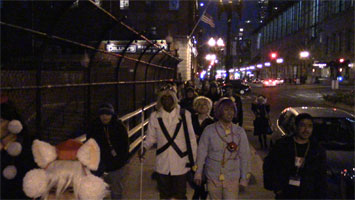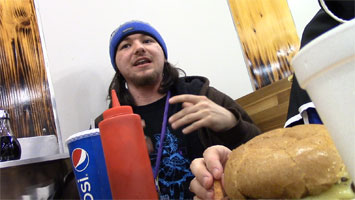 That evening when we were all back from Day 1, the three of us settled in and worked on the remaining part of our presentation. Before that point, we had most of it completed, but with Shrine Maiden's group focusing on the western side of Touhou for this year's panel, we needed to retool a few things in our setup before we were ready. At least we ate well before this point.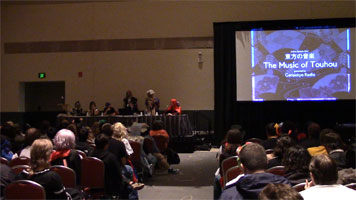 On Saturday, we passed off our presentation to be placed on the main computer, and loaded the font onto it before the panel. Of course, inbetween all of this, we enjoyed strolling through the dealer hall and artist alley, browsing merchandise, gazing upon rare merchandise, taking photos, and meeting people like Freeze-Ex who was in the artist alley, a copy editor from the Chicago Tribune, and even the founder of Yellow Zebra. As a result of our chats, we'll have some new music to put on the station. So much stuff was going on this day.
Eventually, the panel rolled around, and we were able to go in with the group for setup before general admittance began. During the panel, there were multiple segments and guests that went up and spoke about their piece related to the Touhou games and the happenings surrounding them such as ZUN's visit last year at AWA, the Touhou Scroll Project. Then it was our turn. We were told by multiple people that our section was done well, and I think I agree with that for being our first panel ever. We did have a name mix-up which was fixed during the Q&A (Spark said he took the blame for that one as it was one of his contributions during the planning phase), but otherwise we did pretty well overall. The rest of the panel was done well, too, and all of the guests as well as the overall panel group were able to speak their parts to inform the audience about the Touhou Project and its many elements.
Before it was over though, Freeze-Ex got a hold of the audience mic, and announced that he had a gift just for us at Gensokyo Radio. He came up to the panelist stage and handed us a one-of-a-kind drawing of Flan with headphones with Gensokyo Radio and his signature on it, all set on a nearly square, hard-backed medium. I can't really explain why, but this gift is my favorite thing that I got from Anime Boston this year. I think it just helps to solidify in my mind that Gensokyo Radio is a real thing, and there are real people beyond the screens I look at who listen to us and support what we're doing. The shirts helped to do that a bit, but this gift is really something special to me. Freeze-Ex is awesome for doing this, so if you're reading, thank you!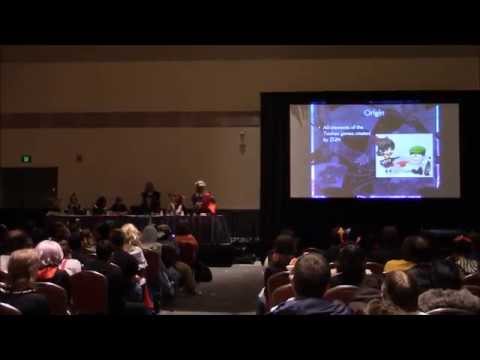 At the end, we gave out a few T-Shirts. One of them got away with the first person to ask Kilgamayan, but when a small group formed immediately after, he pointed them all to me to figure out how to distribute the remaining two shirts. In impromptu fashion, we played the numbers game where I had everyone choose a number 1-1000. My number was 456, and the nearest guesses were 500 and 400. There were about 8 people who played.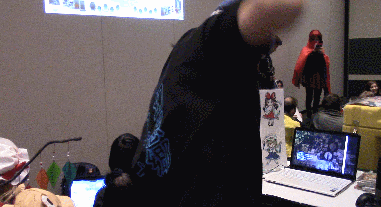 Sunday was the day to relax and enjoy the rest of the convention, and we did just that, hanging out with some of our new friends and networking for future events and happenings.
Oh, and as for the brand new handouts we brought with us, we gave out all 300 of them. 100 of them went to someone who organizes music events. Spark was able to push 150 of them by himself. The remaining handouts were either handed out by the rest of us, or voluntarily picked up by the passers-by near the Touhou gaming corner in the video game room. That part of the game room was, according to the convention staff, probably the most popular section of the entire ballroom.
It all worked out very well, beyond my expectations. Handouts handed out, people met, panel presented, networking conducted. I have ideas about the future of the station now that I didn't have before, and I probably wouldn't have had if it were not for being where I was this weekend.
In conclusion, I had an absolute blast along with the other staff members. I look forward to working more with them and the others who we met with. With this new-found motivation I have about everything I've been doing in relation to Touhou music and the station, I hope to bring bigger and better features to all of you, hopefully in the not-too-distant future.
Thanks to everyone we met who supported us through this weekend's events, to all of our fans that said "hi" to us, to DMJ654 and Spark for being the awesome staff members they are, and to everyone else for listening! ~