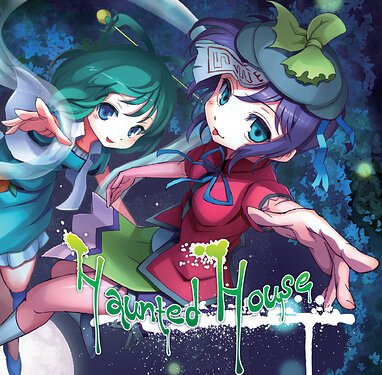 When I first heard that cYsmix was working on a new album after "Ghost Party," I got really excited. I absolutely loved cYsmix's sound he had in both "Electro-Festival" and "Ghost Party." He has a very signature sound, that I can pick out of a crowd of music. I got "Haunted House" hours after it released on Bandcamp. I have to say that this album was worth the wait. The opening track "Death's Grasp" was so perfect, I just looped it for a full hour. The title track "Haunted House" sent chills down my spine by just the shear scale of the sounds, in metal, we would compare this to a band how big they sound. There is just so much going on in a single track that it melds into a very fun and lively mood. There are some tracks from "Ghost Party" on this album and on the Bandcamp version of the album, it contains his single "Empress of Dolls." What really made this album awesome was the whole feel. When I closed my eyes, I imagined that Yuyuko invited all the ghostly Youkai to the Netherworld for a dance party. I can see the lights, and hear the chatter, and smell the food. It is such a lovely image this album gives me. It got me wanting to get inside the head of the man himself on the Album and his music. I conducted the interview via email.
cYsmix:
"Just a little info about me first: I'm 19 years old and from Norway. If you have any questions, ask me on twitter!"
DMJ654:
"What got you started making music?"
cYsmix:
"I was probably about 13 years old, visiting my sister. She had Fruity Loops installed, because she thought it was super fun to fool around with voice recordings. I remember sitting up using FL for hours after she went to bed that night. As soon as I got home, I got it for myself and just started doodling around in it! (At a later point, I found out about Marisa Stole the Precious Thing from IOSYS, and that's how I discovered Touhou. I made a friend (Adauchisan on youtube), and he told me to remix U.N Owen Was Her?, and I did! That's the start of my Touhou story.)"
DMJ654:
"When you make your arranges, where you do draw your inspiration from?"
cYsmix:
"I draw inspiration from so many places, probably places I'm not sure about myself, but mostly it's actually random songs I find. I'll listen to a song, hear a really cool sound or effect, I'll think "I gotta recreate that!" and I try. That's been the story of how I come up with a lot of my songs. I listen to a lot of Shibayan, Caravan Palace, other Complextro artists like Dirtyloud and MYTK, and of course, I get a huge amount of inspiration from my fans."
DMJ654:
"What are some of the equipment and software you use to make your music?"
cYsmix:
"Fun fact; I have no equipment! I only have plugins. I don't even have a keyboard, that's how lame I am. Anyways, the plugins I use the most are by far Philharmonik Orchestra, Massive, Trilian, z3ta+2, Kairatune, magical8bitplug and Nexus, to name some of them. Massive is a must-have."
DMJ654:
"Other then making music, what do you do in your spare time?"
cYsmix:
"Besides music, I do school and I work at the local movie theater. Another fun fact, I did acting for 7 years! If music didn't turn out to be my thing, I would have done acting instead! Super weird! Glad I ended up with music though! Otherwise, I'll be with friends and do the usual boring stuff. Nothing out of the ordinary. Well, I draw once in a while."
DMJ654:
"What are your favorite Touhou Circles?"
cYsmix:
"This is so tough. I love IOSYS because of ARM, uno and void. I love Shibayan, IZMIZM, Xenoglossy, I have a little soft spot for denpa too, so Forest Pireo is also up there. Other than that, O-Life Japan is a great circle. Kanpyo's MIDI is awesome too."
DMJ654:
"What are your favorite bands or groups outside of Touhou?"
cYsmix:
"Caravan Palace, Spencer & Hill, ANYTHING by Ghibli, Darth & Vader, Dirtyloud, there are so many, yet, I'm not able to remember them all."
DMJ654:
"How long have you been making music?"
cYsmix:
"7 Years now? Wow! That's a long time."
DMJ654:
"Who's theme is your favorite to play with? "
cYsmix:
"I love Youmu's theme, Ancient Temple, and Ghost Lead, Yuyuko's theme. Rigid Paradise is also real good. Heian Alien is interesting too."
DMJ654:
"You recently just finished up working with Amateras Records, what was it like working on a vocal arrangement?"
cYsmix:
"It was so much fun! First of all, it was my first time mixing and using vocals, so I was very nervous. I was asked to make an instrumental demo of a song, and put a simple note pattern on top, which would act as the vocal melody. After that was done, Tracy (from Amateras) got the lyrics made, and it was then sent to the vocalist. She recorded the vocals, then I had to correct the pitch, tempo, remove noise, mix, and finish the track itself, so needless to say, it was a lot of work. Totally paid off though. I'm collaborating with Amateras again! This time, I'll have miko on vocals."
DMJ654:
"What would you say to all the Touhou Fans who are just joining the music scene making their own music?"
cYsmix:
"Be patient, nothing's gonna come in a day! I've had 5 years of experience before I've come this far, and I've got so much left to go. Keep yourself motivated. If you think "I'm never going to be able to do this", you're not going to be able to do it. If you feel down about it, check out tutorials on youtube so you can see how easy it can be to make and understand music, just keep trying! I never gave up and here I am!"
DMJ654:
"What made you gravitate to some of the ghostly and ghastly characters in this album?"
cYsmix:
"Here's the thing about me, I love setting a theme and a feel for an album with the title. I want the title to let the reader know what to expect. Like with Electro Festival, which I wanted to have a festival-ish feel, I did the same with Haunted House and Ghost Party. Since Ten Desires is a ghostly game and has that sort of theme itself, I wanted to emulate that in my music! (Plus I'm a sucker for orchestra mixed with electro, so I had that going for me)"
DMJ654:
"It is almost Halloween, do you think it was destiny that this album to come out around this time?"
cYsmix:
"You mean, do I think it is destiny that Halloween is so near the release of Haunted House? Of course! Halloween should be flattered!!"
DMJ654:
"What song did you have the most fun making on 'Haunted House?'"
cYsmix:
"That's such a good question. I loved making most of them, but the most fun, hmm… I have to say 占い師 (Fortune Teller). It was a blast to make, and you can hear that in the song."
DMJ654:
"I always liked the moods you gave some songs, when "Ghost Party" came out, I fell in love with the different moods. Was that your intention or am I just loving your music too much?"
cYsmix:
"That's what I was trying to go for! I love setting the feel and mood for an album or track, so I'm glad you told me that! You're the first one!"
DMJ654:
"What drove you releasing 'Ghost Party' and 'Empress of Dolls' First before "Haunted House?"
cYsmix:
"The real story is that Haunted House was supposed to be released when Ghost Party was released. But, since the album wasn't finished yet, we had to release at least something instead. So, we decided to make a little teaser CD for the main album, and that was Ghost Party. Empress of Dolls was a song I didn't really know what to do about, but I loved it too much to just release it somewhere, so when the opportunity was too good to slip, I had it pressed and made into a separate CD. (You can find Empress of Dolls on my bandcamp version of Haunted House!)"
DMJ654:
"How would you say this album shown improvement compared to 'Electro-Festival?'"
cYsmix:
"Oh, I'd say it's improved tons! Electro Festival was good, but some songs were still lacking, and they didn't feel complete. In Haunted House, hopefully, I was able to create a multitude of different songs that still sounded good enough to be on a CD. In Electro Festival, I relied a lot on sound packs, but in Haunted House, I made all the sounds myself."
DMJ654:
"Did any of that experience working with Amateas Records come out in this album?"
cYsmix:
"Actually, 'Take a Stand' and 'Death's Grasp' are both made after my Amateras collab! I do feel like some early songs are missing out on my latest quality mastering and mixing though. Psychotic Dancefloor was the very first song I made for Haunted House."
DMJ654:
"What is the story behind the Xe vs cYsmix songs?"
cYsmix:
"Xenon and I are great friends, and we both like the same kind of music. He makes really good orchestral music, I make decent complextro/electro house music, and we tried to mix both of them together. It started with me, wanting to collaborate with him, and we ended up making some great tracks because of it!"
DMJ654:
"Is there anything you want to say about your upcoming work with the vocalist Miko?"
cYsmix:
"Sneaky! Yeah, as I mentioned before, I'm collabing with miko right now! She's gonna sing my next song on Amateras Records. The song I made is really good too, so you better look forward to it!"
You can pick up his latest album "Haunted House" on his Bandcamp for free at his bandcamp.