TouhouCon was the convention we said we wouldn't go to. For us, ColossalCon in Sandusky, Ohio was the final frontier where DMJ drove 5 hours, I drove 12 hours, and our friends rode in from New England, Canada, and elsewhere. It was a pilgrimage to a convention we knew we would find friends and fans at.
But as we've learned, many of our friends and fans will go an even greater distance to join others at a convention which had proven in 2014 it can be put together in just a few short months and have over 500 attendees.
This year, TouhouCon in Anaheim, California running for its second year saw more than 1,500 attendees come together to catch a glimpse of such artists and groups as Yuuhei Satellite, ARM, REDALiCE, TAM, Nomico, Masayoshi Minoshima, and others. For our listeners, many of these names should sound familiar. Beyond that though, a surprising amount of people we've seen at other conventions in completely different parts of the country were also in attendance including Freeze-Ex, Radio Overcoat, SevenColorsAlice, Kilgamayan, DJ Koishi, and others from the greater community.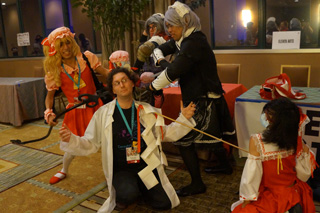 In short, TouhouCon is like no other convention we've attended. This was due in large part to the fact that TouhouCon is currently the only stand-alone convention of its kind in North America which gives large focus to the series, and caters to fans in a manner unprecedented by other conventions. The other side to this convention is that it is oriented towards the independent creators; those who make their own works, whether that be art, music, or other creations. Keeping this in mind, whether it was by coincidence or by design, their merchant and artist table areas were roughly equal in size.
For us at GR, this was the first convention we've had four station staff members in attendance, having had only two (three including Spark) in attendance at Anime Boston and ColossalCon earlier this year.
We met up for the first time on Thursday where LunarSpotlight, NanoSatellite, Puzzle Plate, Sonicmega, and DJ Koishi from Komeiji Records all went to Disneyland which was literally within walking distance of TouhouCon's venue. This was a fun opportunity for us all to just get together and spend some time without the pretense of being at a convention.
At-con, we saw familiar faces from all over the country converge to this single point. It was a gathering of fans reminiscent of what one might find in the Fantasy Kaleidoscope series.

For the first time ever, Gensokyo Radio had its own stand-alone panel, "Gensokyo Radio: Past, Present, & Future". For one hour, we were able to talk about how GR got started, how we perceive the Touhou music community today, and what we would like to do in the coming year to help promote and perpetuate the creativity which spawns from the fanbase. Since most of the audience had already heard of us and knew what we were about, we took the opportunity to inform people about some of the more intricate facts of our past like how GR was started by Auritribe, how our Facebook group was started by a different group of fans and not us, how we've seen listener-ship increase over time in combination with the growing trend of online radio, and how we intend to continue being a part of the community and helping artists get their works out in front of people.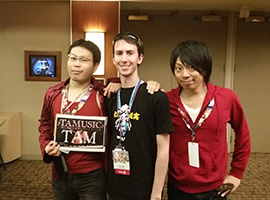 We enjoyed attending some of TouhouCon's main events such as the concerts with TAMusic and Yuuhei Satellite. Unfortunately, we weren't able to attend Marasy's concert, but we did meet a big fan of Marasy the previous evening… she spoke mostly Japanese, and our group at the time including Overcoat had an interesting time communicating with her and her friend.
Overall, TouhouCon 2015 was an interesting and enjoyable experience. Frankly, I'm very impressed that this convention running only on its second year was able to organize and attract the names it had. In terms of attendance, it's already half as large as one of the local conventions in my area, and I'm certain that trend will continue upwards in the coming years. I look forward to watching TouhouCon grow and seeing how the community reacts, and perhaps grows, with it.
As always, thanks for listening! ~