ACen was a fun, yet exhausting convention where I was able to meet up with more people from the community, including DJ Koishi from Komeiji Records for the first time!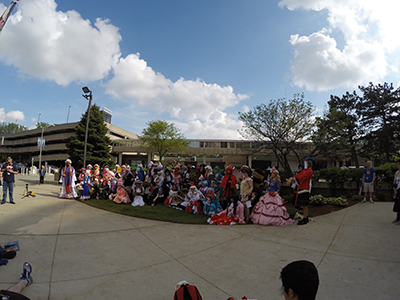 My journey began Thursday afternoon where I left work and made my way to a gas station to fill up and get the three things that Koishi ordered: Pringles, Baja Blast, and a chocolate chip muffin (obviously the best way to kick off a convention). 5 hours later, I found myself in the town of Literally Nowhere, Wisconsin where I picked up a member of one of the best known Western Touhou circles. Up to this point, weather had been pretty neutral, overcast skies for most of the drive. Once we headed south towards the Illinois border, it started to rain. Driving was less than fun at this point, especially considering the nature of semis kicking up water from the road, but luckily the wipers on my trusty Genso-mobile were doing well.
We arrived at about 8:30pm local time on Thursday, got settled in, and grabbed our badges for the weekend. Along the way, we ran into some familiar faces I'd seen just months ago in New England at Anime Boston and MAGFest. This was going to be another fun weekend.
Friday was rather standard convention fare, combing the aisles aimlessly by day and enjoying some time away from the norm. I spent quite a bit of time away from my room, learning how to play Mahjong, watching planes land at nearby O'hare Int'l Airport, and of course spending time with friends.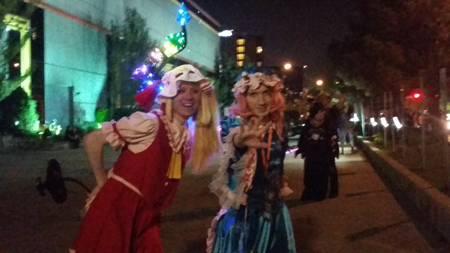 There was also that time when I stepped away to grab something from my car, and the Hyatt was evacuated in my absence. There were a few rumors around as to why that happened, with one of them being that someone forgot to turn off the smoke detectors in the grand ballroom where a concert was being held (think fog machines and the like). That threw a wrench in some things for a lot of people.
Saturday, on the other hand, had some more interesting things going on. Our involvement was rather minimal with ACen, but some people we'd met before at ColossalCon 2014 were here as well, and they had music on the mind. First, out of nowhere, I ran into Emurock, one of the editors over at our Facebook fan group page, and we chat for a bit. I attended the "The Makings of Modern Day Youkai" panel which covered a lot about the interesting blend of Japanese lore and modern-day video games and characters. Later, there was an event known as the Scarlet Devil Mansion Party (SDMP) where a group of DJs get together to spin up some great music from various sources, much of it being from the Touhou Project series. It was pretty popular among those who were tired of waiting in line for the larger concert by the convention literally across the street, attracting around 150 people at its peak.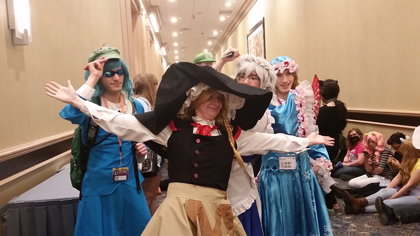 Sunday morning had the Touhou Project panel put together by Silentsword and a few others including one of the creators behind the fan-game "Story of a Lost Sky". We got to see a couple other fan games demoed as well, in addition to the regular demo from an official Touhou game. At a point, some external communities were mentioned including Gensokyo Radio, and I chimed in briefly as a "representative" for GR. At the end, I was able to hand out a few cool pieces of paper that talk about us a little bit, and make my way back to the Hyatt.
Things wrapped up when I helped Koishi haul their things back to the Genso-mobile. We and one of the other members from Komeiji Records had lunch together for our final meal of the con. A few hours later, Koishi and I headed back to Wisconsin, and I rode off into the sunset (westward) towards Minnesota.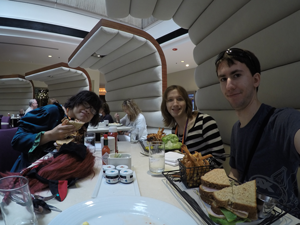 This was my second time attending ACen with my first being almost exactly 4 years ago in 2011. ACen 2011 was my first convention of its kind, and I'd looked beyond to other pastures for quite a time before returning. Coincidentally, 2011 was the first year that some members from the New England Touhou community had attended, I just didn't know who or where they were at the time.
It's interesting how it happens, and has happened at other conventions around the US. People pass by something like a photo shoot, panel, or gathering, and they learn there's not just a few fans out there, but an entire community built around this video game series from Japan. Sometimes it's just a matter of being in the right place at the right time.
So, while you're out there thinking you are the only Touhou fan within 100 miles (or kilometers) of you, it realistically depends on the population density in your region. What I mean to say is, there are other fans out there, and they may be closer than you think. You just need to figure out how to reach beyond the border to find them.
Thanks for listening!
~ LunarSpotlight