It's more likely than you think!
If you didn't tune in to our last show, and you don't follow us on any of our regular social channels (why aren't you?), we're looking to gain a better understanding of the Touhou fan presence in America for the purposes of exploring the feasibility of holding a live Touhou concert event.
Is Gensokyo Radio jumping the shark? Have we gone mad? (No, we haven't)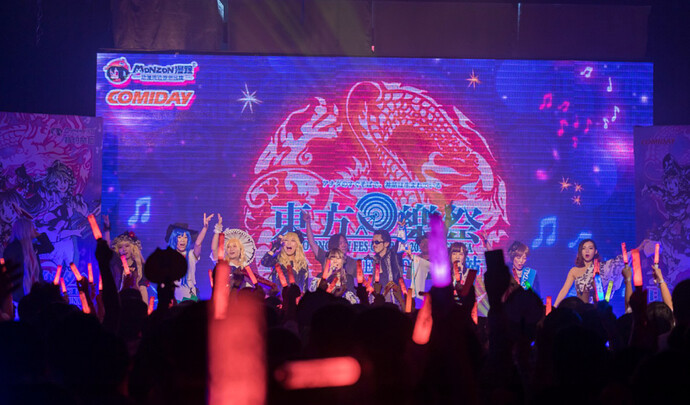 Toho Ongaku Fes Global Event in Chengdu, China (2016)
Toho Ongaku Fes and the group that Gensokyo Radio is working with, Toho Ongaku Fes Global, have run several concert events in Japan and other Southeast Asian countries. In 2016, they held more than 20 different concert events throughout Japan and several cities in China including Chengdu, Beijing, and Shanghai.
What circles might we see at one of these events?
They've worked with popular Touhou fan circles including, but not limited to, Yuuhei Satellite, EastNewSound, A-one, TAMusic, Tokyo Active NEETs, Yonder Voice, C-CLAYS, IOSYS, Shoujo Fractal, DiGiTAL WiNG, Alstroemeria Records, and many more.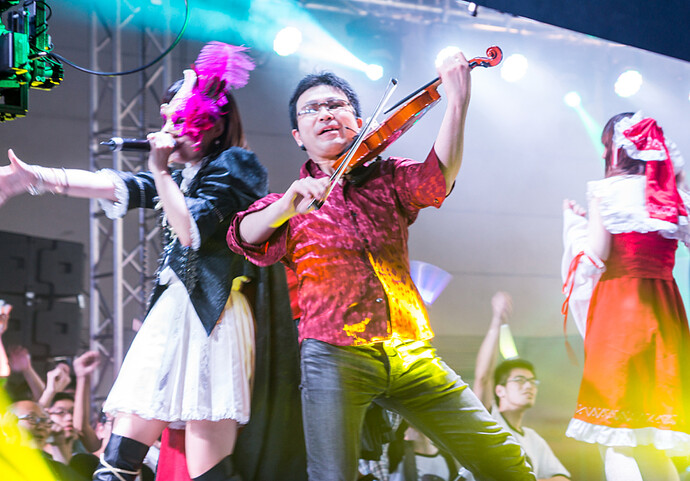 Senya (Yuuhei Satellite) and TAM (TAMusic) at the Nanjing CXC International ACG Expo (2014)
They're exploring the possibility of running events beyond China and the Southeast Asian region, and that includes America (which refers to the continent of North America but is more likely to focus on the United States due to a higher concentration of fans).
To this end, Gensokyo Radio wants to know more about the presence of fans in the region and has put together a survey. The results of the survey will be shared among our team as well as Toho Ongaku Fes Global for the purposes of exploring the feasibility of running an actual Touhou live concert event in America.
So, help us turn this idea into reality, let us know what you think, and you too might one day find an event like this coming to a city near you!
Comments or questions outside of the survey are welcome below.