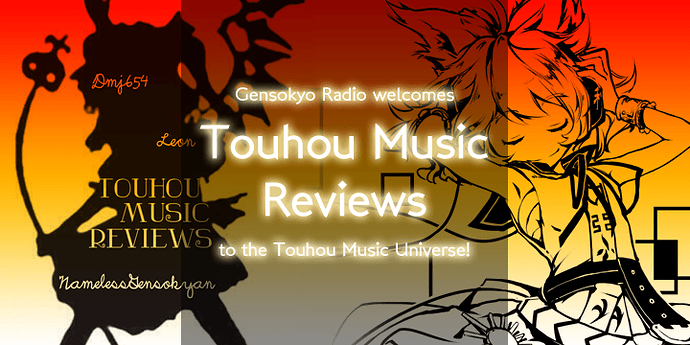 Greetings, listeners!
As you may have heard during Live #16, Touhou Music Reviews, originating from a Facebook group page, has teamed up with Gensokyo Radio to bring you greater insight into the Touhou Music Universe. This new addition to Gensokyo Radio means you'll now be able to find TMR's reviews on our website, and they'll be flying under the Gensokyo Radio flag moving forward.
The creator of Touhou Music Reviews, DMJ654, has appeared on a number of our Live shows as a guest in the past. With this new addition, we've made him the 5th official staff member at GR, and we believe his incredible enthusiasm for Touhou music in general will be a very positive thing for our community.
In other news, our next Stage 5 show will be postponed from its original date of January 24th, 2014 due to Sean and Auritribe having prior engagements. We don't have a date set for it yet, but stay tuned for future announcements regarding the next Stage 5 show!
Update (Jan 19): Stage 5 is currently scheduled for Friday, January 31st, 2014 @ 7pm EST.
Finally, as you've probably seen on the front page of the site or our Facebook page, we are eagerly looking for artists and volunteer promoters this year! We're starting the season earlier than last year, which means that there's about a month and a half open from this post's date for artists to begin work on what we hope will be one of our best promotional years yet! I have some cool ideas on what we can give promoters this year which I'll announce at a later time, but for artists, there's some cool stuff up for grabs if your work is selected in March. The rewards offered, totaling over $50 USD, include the following:
Your artwork printed on a minimum of 500 handouts and distributed globally in the year 2014
Your credits and optional contact info on the reverse side of the handout if you want people to know more about you as an artist
A $30 (USD) credit for games on Steam
A Gensokyo Radio Digital Miko T-Shirt with complimentary shipping anywhere in the world (sizes S, M, L available)
More information on how you can get involved this year is at our promote page.
Thanks for listening! ~