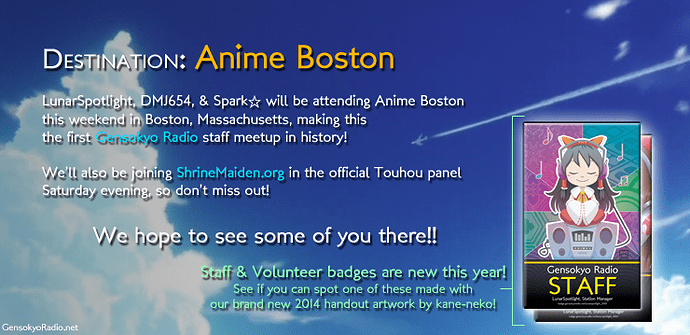 This week, I'll be taking to the skies, and DMJ654 & crew will be taking to the roads as Anime Boston approaches!
In case you've missed the live shows or the various articles posted over the past couple months, the first appearance of our new handout artwork, first Gensokyo Radio staff meetup, & first appearance in a panel will all happen at Anime Boston in Boston, Massachusetts this weekend.
I'll be traveling to Boston by air on Thursday while DMJ654 and his group will begin their 14-hour journey on the road from Kentucky. On their way, they will also meet up with Spark☆ from our Facebook staff before making their way to their final destination. They'll all be arriving on Friday.
While we're there, I'll be posting updates via Twitter as it's the most mobile-friendly method of communicating current events. If you're not on Twitter, you can just look through the feed on the sidebar at GensokyoRadio.net to keep up-to-date.
Lastly, if you're there, feel free to comment below or send a message to our contact email if you'd like to meet up with us. I know there's already a couple people DMJ has talked to about that, so it'll happen sometime. Oh, and I'll be wearing my staff shirt on Saturday for the panel.
Thanks for listening, and we hope to see some of you there! ~