You spoke, we listened.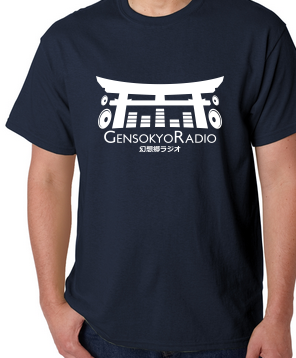 Gensokyo Radio has once again put together an original design which is now available for pre-order on our shop page. The design is derived from our new logo design which has yet to hit the website, created by illustrator Rosana Margarida.
As we're aware that come listeners are looking for another character design, we have a separate artist who has created artwork on that front. However, due to time constraints and multiple other projects keeping our dear artist busy, this is not yet available. We'll be sure to let you know when it's ready, but it may not be until closer to the end of the year. Stay tuned for more updates on that.
Pre-ordering a "Musical Torii" T-shirt will help Gensokyo Radio keep the sounds streaming to you and the rest of our listeners worldwide. Plus, it will further assist us in establishing an initial supply so that we may continue to make this shirt available to listeners after the pre-order.
Getting a shirt will also help towards funding our next big adventure starting in 2016 where we'll be aiming to support artists in the community with promoting their material directly at conventions in the United States. More information on that will be available at a later date.
The pre-order sale goes on until August 24th, with the aim being for us to have shirts in the hands of our listeners in time for TouhouCon happening in September in Anaheim, California. Shirts will be available after the pre-order, though at a later date.
Thanks for listening!