Greetings, listeners!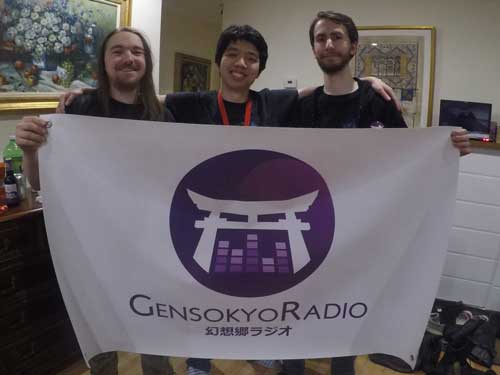 We're already into Spring, and things are running well station-side. We had our group out in Boston, MA once again at the beginning of this month, and we managed to find a new staff member while we were there!
Xara, who has been a fan of the station and a moderator on our partnered Discord server, helped get our setup started in Boston this year. They did a lot of running around and went the extra mile to help ensure things went well. They also helped us setup our platform in the arcade with a brand new sign, handled shipments, and were involved in the setup and strike processes of the 16 Touhou-centric gaming computers which sat all around us over the weekend.
The official induction ceremony, led by DMJ654, was held in a hotel elevator and lasted approximately 35 minutes. Then the Boston Fire Department bailed them out.
Those of you who have been following us over the years know that we keep a healthy amount of data around to help us track how we're doing as a station over time. Recently, we took a look at connection counts and the general quality of connections.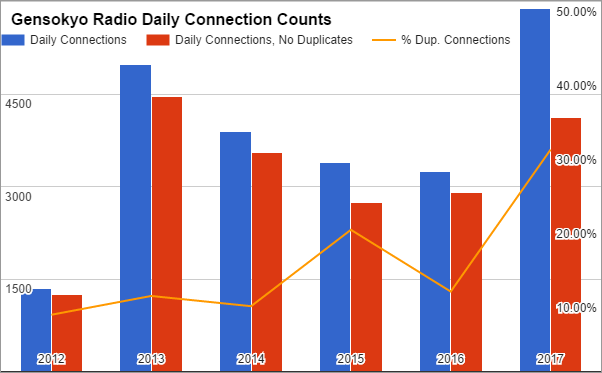 Looking back, 2013 is historically our best performing year. Since then, listener connections have steadily declined over time, but at over 3000 connections per day on average, we've never really been worried about this trend.
With that said, we've seen significant growth in daily connections in 2017. Even though the number of connections per day is the highest it's ever been this year, the number of duplicate connections is also up.
One additional metric we can measure is the number of duplicate connections made. Generally, we do pretty well at keeping this under control, but this year the percentage is higher. This means that there are less individual, unique, concurrent connections being made proportional to the total number of connections. Even so, if we take out all of the duplicate connections we've seen so far, we're performing nearly as well as we were in 2013 (about 300 less connections per day compared to 2013).
Finally, a reminder that we continue to run Live shows every month via our Discord server. You can find a link on the sidebar, and we encourage folks to join in at anytime to meet your fellow listeners. Information about when Live shows are is posted via various social channels including Twitter, Facebook, and our Discord server's #info channel. Come for the music, stay for the games.
Thanks for listening! ~