Greetings, listeners!
If you've been following us during the month of July, you'll know that it was a busy month for us filled with promotion, shows, and more development on the next big thing at Gensokyo Radio. We had Live #22 towards the end of the month, and we planned for a couple additional shows coming up in August. "DMJ's Hangout", aka "DMJ's Super Awesome Super Show" Episode 2 played tonight, and a week from tonight we'll be doing another show dedicated to playing a live mix for our listeners, simply called Mix Night: Beyond the Moon with DJ Lunar.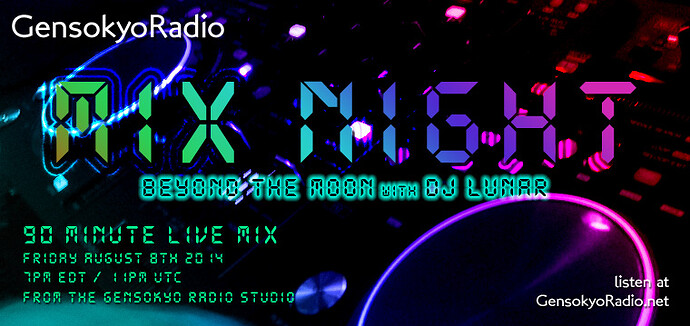 On a separate note, if you're interested in helping us promote during the remainder of the convention season this year, please drop us a line at our contact page. Supplies are almost completely gone this year, and there's more places we could be, so if you're interested, let us know!
That's all I've got for now. Thanks for listening! ~