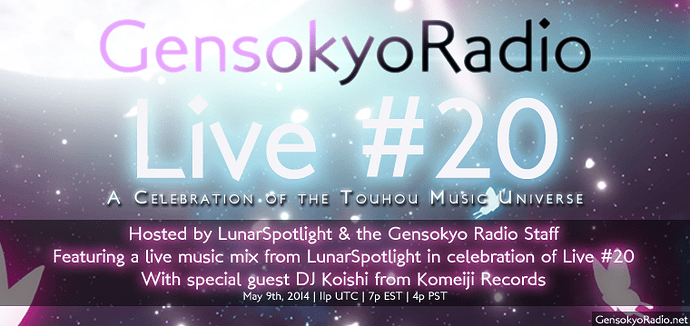 Join us during our next show on May 9th, 2014 for Gensokyo Radio Live #20!
In addition to featuring some of our newest and highest-rated music of the past month, we'll be spinning up something different with a special live music mix in celebration of our 20th live show.
Also joining us will be DJ Koishi from Komeiji Records. You may recall that our resident music reviewer, DMJ654, reviewed one of their albums "An Aya Christmas" towards the end of last year. Komeiji Records is a Texas-based Touhou music circle and currently has a total of 8 albums. We'll be able to chat with DJ Koishi and get a unique look into how their journey into the Touhou Music Universe has gone thus far.
Finally, for those of you who placed an order during our recent pre-order sale, shirts are scheduled to arrive on May 2nd, and most of them should be on their way before this live show hits the air.
Thanks for listening, and we hope to see you there!