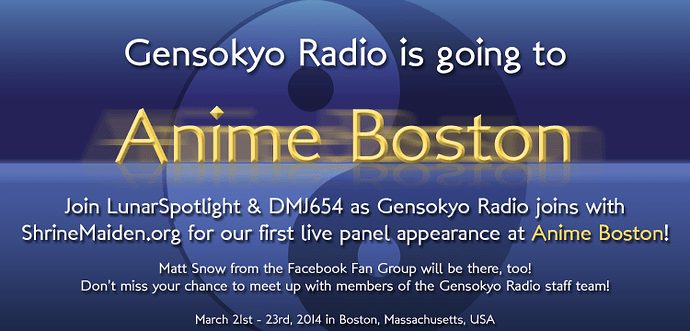 Gensokyo Radio will be making its very first appearance in a live panel at Anime Boston 2014 this March!
We've teamed up with one of the longest standing Touhou panels at Anime Boston which has been around since 2009 (at least). The panel is organized by the folks over at ShrineMaiden.org, and they've agreed to let us join them for this panel. We'll be covering topics related to the music that comes from the Touhou community in our own dedicated segment.
DMJ654, our resident reviewer and newest staff member, will be joining the panel alongside myself.
In addition, Matt Snow from our official Facebook Fan Group will be at Anime Boston as well! This will be the first time we're all meeting up in one place, and we invite any fans from our community to meet up with us. As of now, I'm not sure if we're going to plan a time for any meetup since I really doubt there's going to be a clamoring of GR fans wanting to meet us, but really, who knows! My guess is there'll be some sort of Touhou photo shoot, we'll be there, others will be there, and that's how it'll happen.
Stay tuned for updates as the date draws nearer. We hope to see some of our fans there!
Thanks for listening! ~