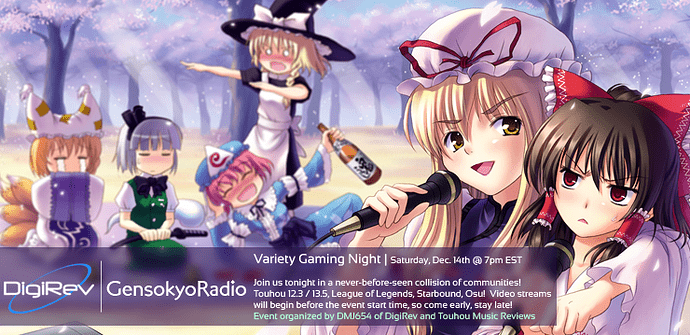 Join us on December 14th, 2013 for a variety gaming night as the communities of DigiRev and Gensokyo Radio collide! Games, prizes, video streams, etc.
This is a special 3 hour event starting at 7PM EST, 4PM PST, and Midnight UTC. We have planned a host of games including Touhou 13.5 Hopeless Masquerade and 12.3 Hisoutensoku, as well as other treats such as League of Legends ARAM and potentially Starbound. Osu! might even make an appearance.
For Touhou 13.5, we will be using the latest Patch released by ZUN (1.32), you can find it here.
We'll be meeting in Gensokyo Radio's IRC chat to maximize compatibility for everyone. If you don't have an IRC client like Pidgin or mIRC, you can use this web-based client and login to #GensokyoRadio on the Rizon network.
This is intended to be a casual event between the two groups to kick off the holiday season, and we hope to see everybody tune in!
Please check back every so often as information is updated throughout the week~
DMJ wanted to add this:
"I am really glad to bring both worlds of my life together to have both the Touhou Community understand what we do, but more importantly get the guys over at DigiRev a better understanding of having outreach outside of games like League, and Planetside and Star Citizen. I really hope I can see some people from the Touhou community check out our streams and have fun while doing it. This is something I wanted to see done after going to AWA this year. What really pushed me to try to do this is having the backing of my gaming community while I went into the Hopeless Masquerade Tournament this year. I always thought of both the Touhou Community and the men and Women over at DigiRev as family to me. What I wanted to do is give back to them and show them that I appreciate everything they have done to keep me going. It it was not for the Touhou Community, I would have not started Touhou Music Reivews, if it was not for DigiRev, I would have lost interest in playing video games in general a while back. Both Touhou and DigiRev drive me to enjoy everything life throws at me and I want to show everyone around the world that games like Touhou and League and Planetside are saving graces to people like me who haven't had any support in their gaming life style. I hope to see you all there, and I can personal thank you guys and the guys over at DigiRev for everything they done for me and countless others out there who view gaming as their source of support. I love every single one of you guys who kept with my page during this time in my life and I want you all to love and enjoy every minute we having playing."
~DMJ654