Greetings, listeners!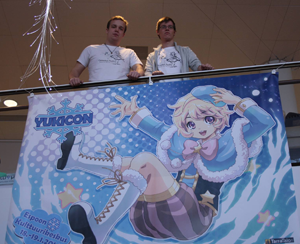 This weekend, "Frostbite", part of Desucon in Finland, is happening and our volunteer promoters from last year are once again at it with a mix of handouts from 2013 as well as some left over from 2012 which have never been anywhere in Europe until now! No doubt, they're wearing their original black-on-white T-shirts at some point this weekend, and they'll probably send pictures back to us. This photo on the left is from Yukicon, a convention they were at earlier this year.
Later this month, our next Gensokyo Radio Live show, #17, will be happening on February 21st, 2014 at 7pm Eastern US / Midnight UTC. Our resident voice guy, Sean Chiplock, has taken residence elsewhere and might not be able to join us tonight, but we'll likely have DMJ654's personality to help fill the gap (with gummy bears).
If you're looking to create artwork for us this year, time is running out to create and submit your original work for the chance to win over $50 in prizes! And if you aren't one with mad art skills, then how about helping us hand out the winner's artwork on handouts which will once again be floating around, possibly at a convention near you! Full details on both are at our promote page.
Finally, if you're going to Anime Boston this March, we've already got a couple fans who said they were interested in meeting up with us. If you're going and are interested, let us know by leaving a comment below. Otherwise, you can look forward to AB's official Touhou panel that we'll be part of this year thanks to the folks at ShrineMaiden.org!
Thanks for listening!