The convention season continues at Gensokyo Radio with the next convention on our list happening this weekend in Minneapolis, Minnesota!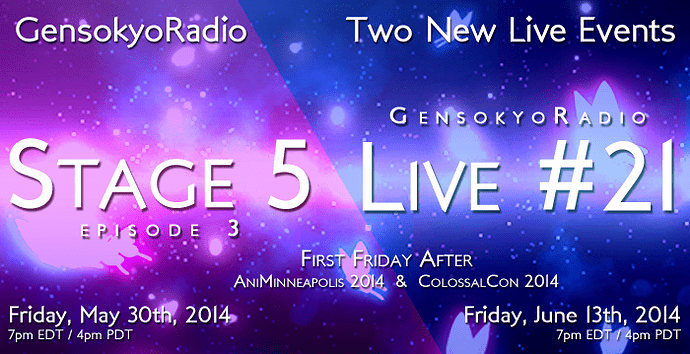 This weekend, I'll be attending AniMinneapolis for the second year in a row. For the most part, I'll simply be enjoying the convention like most others, but I'll also be doing a bit of promotion on the side where I can. Last year, I was a bit disappointed when AniMinneapolis yielded only a small handful of Touhou fans, but this year, there's a meetup scheduled on Sunday morning, and hopefully I'll be able to make it there. The convention is actually close enough to our studio that I'll be driving to and from Minneapolis to attend, accompanied by one of my good friends.
This will also be my first convention that I've visited twice. I'll also be visiting Anime Expo later this year for the second time, and we also plan to be back in Boston for Anime Boston 2015.
On the Friday following the convention, we'll be doing our third episode of Stage 5, our more talk-oriented live show where we'll be chatting about current events and the upcoming convention afterwards, ColossalCon 2014 in Sandusky, Ohio. There, we'll be collaborating for a second time with another panel to bring people more information about the Touhou Music Universe. Stage 5 will air on May 30th, 2014 at 7pm EDT / 4pm PDT.
Click here for a special sneak preview of what's in store during the next Stage 5 show!
After that, our next Live show, Gensokyo Radio Live #21, will be airing on June 13th, 2014 at 7pm EDT / 4pm PDT.
We hope to see some fans at AniMinneapolis this weekend, and as always, thanks for listening! ~