The past few weeks have been busy for most folks at the GR staff. There's a ton of things to do, and not enough time to do them in. With that said, we're growing the staff team and reorganizing some things in the hopes that we'll get more done sooner. We appreciate your understanding, and will continue to improve the site and station over time.
Now, on to something we've been putting off for a while…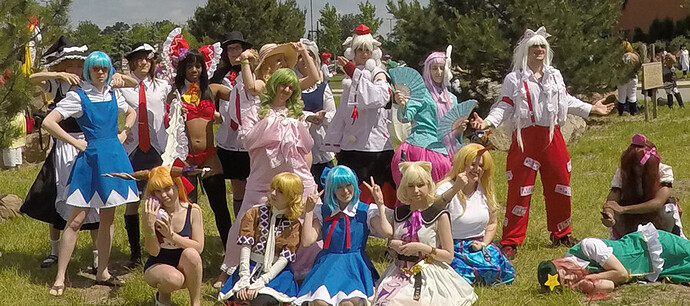 ColossalCon takes place in Sandusky, Ohio, just north of I-90 and about halfway between Toledo and Cleveland. There's no major airport nearby, and transit options are limited. Even so, it serves as an interesting middle-ground for all of the people we've befriended over the past year and a half, from the New England region, to where the GR studio is in the Midwest. DMJ654 has one of the easiest times getting to Sandusky, being roughly 5 hours away. Many of the New England folks took the train in. Coming from Minnesota, I had a 12-hour car trip ahead of me, but the new Gensomobile made it a much more comfortable experience.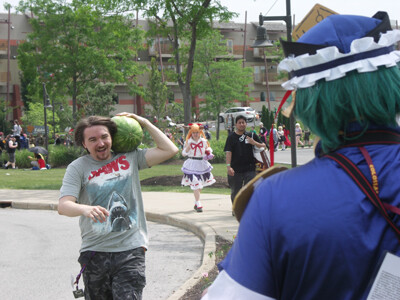 After barreling through Chicago traffic and hours upon hours of countryside, I eventually arrived to meet up once more with DMJ654, SuperParadox, Withhelde, DS4, and several others we've seen over the past year. With DMJ having been a local to the area in the past, his knowledge led us to a diner for dinner. The next day, we moved out from our smaller, cheaper hotel to the Kalahari resort where we would be staying for the remainder of the trip. We were lucky to have reserved a suite which had a full kitchen and enough room to fit eight other roomies. The kitchen was a huge plus since it enabled us to cook for ourselves, and we definitely took advantage of it.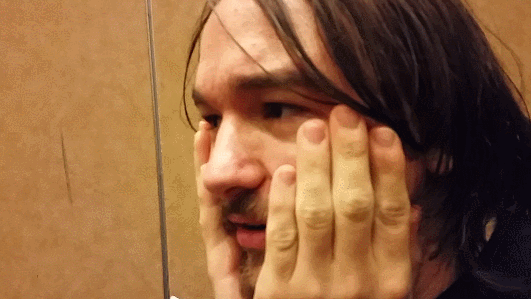 The community presence overall at ColossalCon wasn't as strong this year, and I feel this was due in part to the fact that there was no official photoshoot listed in the convention's program guide. The decision for when and where the two photoshoots would be done was made on Facebook, and the information would have needed to get out through those who knew what group to be a part of, and by word of mouth after that. I feel that could have been organized better. Regardless, we did have a fair turnout.
The Touhou panel was pretty much what you'd expect, with a couple of exceptions. First, never have I seen DMJ visibly distraught at something the fans have done with the series. In the panel (which had people new to the series), ZUN was portrayed as a independent game programmer who also loves beer. While that's true, the song and video that went along with the message was something I'd not witnessed before. It was unique to say the least.
Towards the end of the panel, they held a raffle. We contributed a shirt to the raffle, but we weren't able to deliver it to the panelists before the panel began, so we ended up saying a short piece about the station in front of the group before the shirt was raffled off.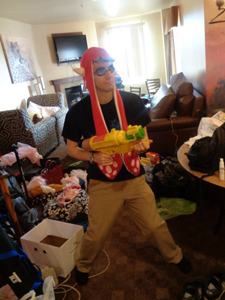 Later that evening, an outdoor music panel was held by the same group who would have later run the Scarlet Devil Mansion Party (which was unfortunately shut down before it began). The "panel" was more of an exhibition of some of the different arranges of music that comes from the Touhou series of games, so naturally we attended and met up with some people there. While I was there, I met someone who really enjoyed the music, and also told me about how cool he thought my Gensokyo Radio "Digital Miko" T-shirt was. Having just come from the raffle, I had a bag of shirts with me in varying sizes, so I asked what size shirt he wore (not expecting anything at all), and bestowed a shirt upon him. He was very thankful, hugged me twice, and told me he'd promote us for sure. That moment where I could do something cool for a fan and hear how happy they were… that's something that's very rare, and I'll remember that for a long time.
Overall, with epic video games like table flipping and quad-Jubeat, a decent community turnout, good food, great people, fun water rides, and squid puns galore, ColossalCon was definitely a unique and fun destination that makes going the distance worth it.
Thanks for listening!