Greetings, listeners!
As usual, I've been quite busy as of late with many different things going on. Work (at my paying job) is in full swing, I had a couple birthdays to attend, and we had a fair amount of planning go into our latest couple of events which I've written about below. As far as catching up on past events, enough with the recaps, let's get back to the here and now.
Last weekend, we had a special dual-promotion effort put on by the station staff where we went to Anime Boston in Boston, Massachusetts, and SakuraCon in Seattle, Washington. There, we met up once again with various people from the community to promote not just the music, but the games themselves.
Anime Boston 2015


At Anime Boston 2015, we got involved before the convention to help out some of the friends we made in Boston last year with a large arcade setup. The setup exclusively featured games from the Touhou Project series, as well as having the occasional fan game cast via projector for thousands of passers by to witness and try out. The arcade setup, put on as part of ShrineMaiden.org's "Touhou Road Shou" which has been to many other locations such as Katsucon, Portcon Maine, Otakuthon, and Nekocon, is run by just two people from the community.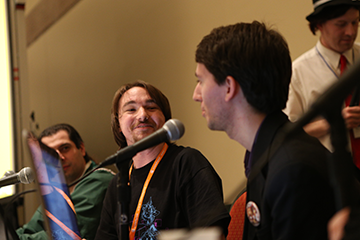 [Panel photo, pictured (left to right): PtR_whatever, DMJ654, LunarSpotlight, Kilgamayan; taken by Drunk Aya]
Before Anime Boston, we were aware that one of the organizers, "PtR_whatever" who joined us last year for our post-Anime Boston Live show in 2014, is on the road to recovery after having surgery last month. DMJ654, Spark, and I voiced our willingness to help out, and so we did. We were allowed special access before and after general admittance hours for the initial setup and teardown of the arcade setup which featured 12 computer rigs and 3 projectors. We also got to set up a special table for playing some tunes from the Gensokyo Radio library. It was a great opportunity for us to get involved and meet more people who are fans of the games and music.
We were invited once again by Kilgamayan, one of the organizers for the Touhou Project panel, to step on stage. This time, their panel was simplified down to two main elements: games and music. We were able to contribute by providing a short sampling session of some of the songs we're familiar with at GR to supplement some of the songs they had prepared beforehand. It wasn't anything too fancy with the short notice we were given (approximately 30 hours ahead of time), but we were happy to help in any way we could.
SakuraCon 2015
On the other side of the country NanoSatellite represented GR along with a few of his buddies at SakuraCon. This was the first time that Nano had promoted. It was also the first time that an artist had promoted the station using their own artwork (Nano is one of the two artists who did artwork for the 2015 campaign). He was also able to meet up with Overcoat from Touhou Tuesday, just a few months after I had met up with him at MAGFest in January.
It's been a fun start to another convention season! I'd like to thank the folks from the New England Touhou community for letting us get involved and help out where we could. I'd also like to thank Kilga for inviting us back on stage for this year's Touhou Panel. If we get involved again next year, hopefully we'll have more notice and ability to put together something greater.
We'll be back at Anime Boston 2016! Thanks for listening!